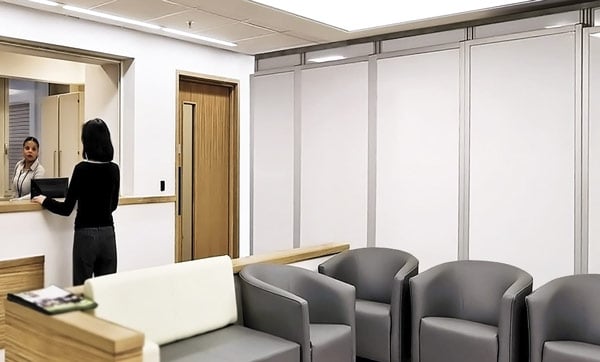 Welcome to 2022! As we kick off the New Year, let's give a quick nod to some of the most relevant topics covered over the past 12 months. Following are the Top Five blog posts that resonated most with our growing audience of commercial contractors, project managers, facilities managers, infection preventionists, and others tasked with eliminating disruption during occupied renovations.
---
5. Construction Barriers in Hospitals: Your Questions Answered
During renovations or remodeling, construction barriers in hospitals play a vital role in infection control. In order to perform the work, all parties involved must follow an Infection Control Risk Assessment (ICRA), a mandated multidisciplinary protocol that is implemented prior to the remodeling or renovation of healthcare facilities. Of course, protocols raise questions. If you missed our August update, you can find the answers here.
4. ASTM E119, ASTM E84 and Fire-Rated Barriers: What You Need to Know
For occupied renovations conducted in hospital settings, national and/or regional jurisdictions often require a one-hour fire-rated temporary construction wall, especially if there's no working sprinkler system in place. Requirements and testing specifications can vary by state, city, hospital, and even project – and they can get a little complicated. We asked Joshua Brackett (PE, SASHE, CHFM), our go-to fire safety expert, to weigh in on ASTM E119, ASTM E84 and fire-rated barriers. Find out what you need to know here.
3. SRA and ICRA: New Developments in Healthcare Construction Safety
Janet Haas, Principal Consulting Epidemiologist at Innovative Infection Prevention and associate editor of the American Journal of Infection Control (AJIC), cleared up some of the confusion surrounding the Safety Risk Assessment (SRA) and the Infection Control Risk Assessment (ICRA) – and our readers appreciated her insights. Both SRAs and ICRAs should be integral parts of the design and planning phases of construction and renovation projects. In this guest post, Janet shares their intended functions, how they complement each other, and how best to implement them. Read about the new developments here.
2. What is an Anteroom in a Hospital?
When is a smaller room leading into a larger room a pretty big deal? When it's a part of infection control that allows facilities to conduct renovations without having to shut down areas of the hospital. To learn why they're a vital tool for helping to reduce the number of hospital-acquired infections (HAIs), click here.
1. ASTM E84 Fire Rating: Your Questions Answered
When conducting healthcare renovations, almost all facilities require that temporary containment materials meet the ASTM E84 Class A fire-rated requirement -- the standard test method for assessing the surface burning characteristics of building products. If you're thinking it's the kind of topic that generates lots of questions, you're right. Find the answers here.
We hope you find this information helpful. To see our complete line-up of posts aimed at eliminating disruption during occupied renovations, visit the STARC Systems Blog.
Interested in More Information on STARC Systems?