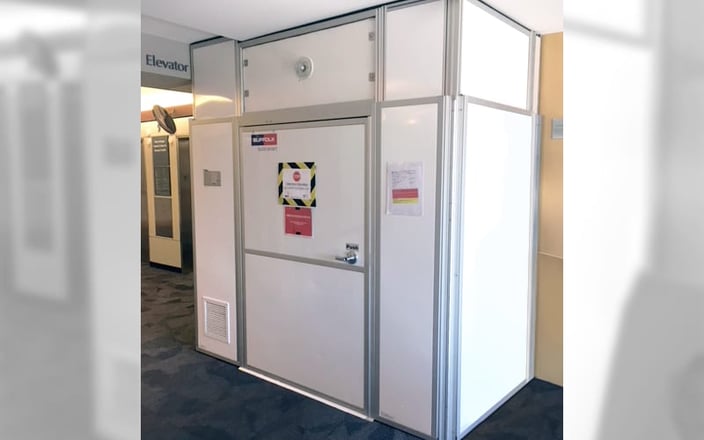 Updated: August 2021
Modular wall systems not only demonstrated their usefulness in handling the huge number of COVID-19 patients since the start of the pandemic but also showed how hospitals could deal rapidly with infrastructural needs in other large-scale healthcare emergencies while minimizing disruption to their operations. Discover 5 Ways To Use Modular Walls Systems In Healthcare Facilities During The Pandemic.
---
What is the Definition of an Anteroom?
An anteroom is an essential tool for hospital renovation, maintenance and infection control. It is simply a smaller room one would enter before entering a much larger room.
Why are Anterooms Important in Healthcare Environments?
They are one part of infection control that allows facilities to conduct renovations without having to shut down areas of the hospital. They serve a vital purpose in a healthcare setting by protecting patients and staff by isolating contaminated air, dust and potentially deadly airborne pathogens, arising from construction or renovation in a much larger unoccupied contaminated workspace. They are a vital tool in helping reduce the amount of hospital-acquired infections (HAIs) for patients.
There are several applications in hospitals where an anteroom is an essential tool to control contaminated air. Renovating patient rooms, surgical suites, pharmacies, cafeterias, radiology suites, and even plumbing and HVAC upgrades or repairs are all situations where an anteroom can help control the airflow between the sensitive patient occupied area and the renovation site.
The anteroom is a very simple but vitally important concept. Upon leaving the contaminated renovation site one enters the anteroom which is a negative air environment. This means that the contaminated air cannot flow out into the sensitive patient-occupied areas. Workers can remove their PPEs, shoe covers and work clothing so that it doesn't contaminate the occupied areas.
See How Much You Can Save with STARC Systems
Using Negative Air Panels to Create an Anteroom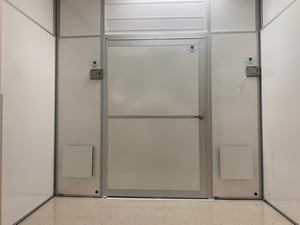 STARC Systems' modular reusable containment walls allow easy and fast construction of an anteroom when required. Our negative air panels come with a standard 12" duct collar and are available in widths of 18", 24", 32" and 42" allow you to customize the size of an anteroom based on job requirements. They come with an integrated pressure port to integrate with a differential pressure monitor that accommodates all common data recorders. And, because our panels and doors are reusable you can quickly and quietly create an anteroom wherever and whenever you need to. Each panel or door comes with a sound attenuating foam core that reduces renovation noise by up to 50%. The clean white face of the panels looks like a real wall, blends into the existing hospital environment and is easily disinfected. Our system is shipped on carts which makes moving, deploying and storing our panels easy for any facility.
Interested in More Information on STARC Systems?