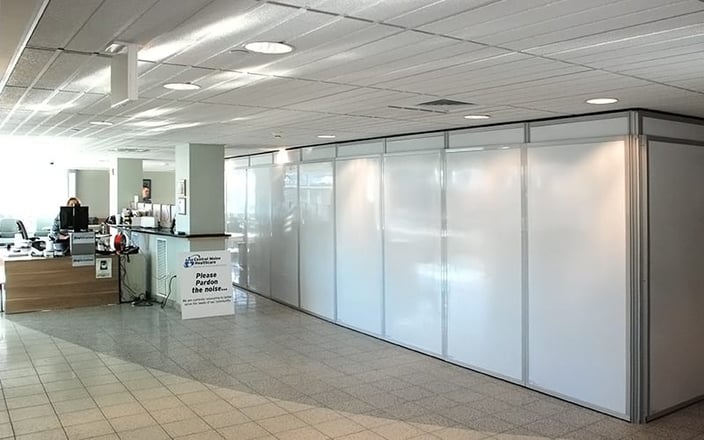 Updated August 2021
IPs, FMs, or healthcare contractors may have heard of the Safety Risk Assessment or SRA, and most start to think about the Infection Control Risk Assessment or ICRA only in the days before construction begins. Both should be integral parts of the design and planning phases of construction and renovation projects. Discover the latest developments in healthcare construction safety from our infection prevention advisor, Janet Haas: SRA and ICRA: New Developments in Healthcare Construction Safety
---
During renovations or remodeling, construction barriers in hospitals play a vital role in infection control. As a preventive measure, the barriers are part of infection control practices that are crucial to reducing the transmission of hospital-acquired infections (HAI). Contractors, facility managers, hospital staff, and construction personnel alike—all that are involved with such construction—must follow an Infection Control Risk Assessment (ICRA) in order to perform the work. ICRA is a mandated multidisciplinary protocol that is implemented prior to the remodeling or renovation of healthcare facilities. It focuses on infection controls throughout all phases of construction.
What Does ICRA for Healthcare Construction Entail?
Fundamentally, infection prevention programs are developed and designed to reduce the risk of infection among patients, staff, personnel, and the public. Any areas in the healthcare facility expected to be affected by construction, remodeling, or renovation must have an assessment for infection controls to ensure the safety and health of all parties.
The first assessment undertaken is not to disrupt essential services to patients and employees. Any hazards or potential impacts from the work must be determined beforehand. Especially to those patients who are susceptible to infection, or any contingency disruptions, planned or unplanned, noise from a worksite, movement of debris in and out of the facility, interruption to traffic flow in corridors, any emergency, power outages and the like that may impact them or place them at risk. The assessment must anticipate the disruption caused by construction activities inside and out to prevent it.
What are Infection Control Guidelines?
The infection control guidelines should focus on the reduction of risk from infection throughout all phases of the project weighed against the potential impact and mitigation of various infectious pathogens that could disperse within the care environment.
It's worth repeating that patient placement and relocation away from the work zone is the first measure before construction commences. Placement of critical construction barriers must be erected before construction begins to protect and prevent all areas adjacent to the site from airborne contaminants. HVAC, ventilation systems, air conditioning, and even the water supply system must be sealed off or protected from the possibility of contaminants before demolition.
What is the ICRA Construction Checklist?
The ICRA construction checklist is an infection control matrix that cross-references four types of project activities against the risk assessment to patients from those activities, and then assigns classification of risk levels to patients based on the project activity.
Project activities are listed as types A through D.
Type A covers simple inspections and non‐invasive activities where no dust can be generated, like painting without sanding or minor plumbing. Minimal dust created by small-scale work of short duration is considered a Type B activity.
This type of activity may involve the installation of telephone or computer cabling or the cutting of walls or the removal of ceiling panels from a room or space.
Type C covers an increase in project activity where demolition or removal of debris and any fixed building waste and components can cause a moderate to a high level of dust to circulate.
Type D is any major demolition and new construction projects that require an extended period of time to complete.
These project activities are then matched against a risk assessment to various patient groups. The risk assessments are Low, Medium, High, and Highest, and they are cross-referenced against the planned construction project type (A, B, C, and D). Once determined, a classification of precautions or, level of infection control activities numbered I, II, III or IV in order of degree of risk, is assigned before construction begins. Class IV is the highest classification for risk of infection.
Why Use ICRA Certified Barriers During All Phases of Construction?
ICRA certified barriers provide the most active means to prevent airborne dust from dispersing through ventilation systems and into the atmosphere. Erecting critical barriers seals work areas from occupied areas before construction begins. Critical barriers for construction are temporary walls that segregate the disruption and airborne dust during all phases of construction. They are one of the most important elements in infection control.
The STARC System is an airtight, durable, temporary wall solution that exceeds ICRA Class IV infection control requirements. The walls effectively segregate the noise and dust of renovations and construction projects to prevent any disruption at healthcare facilities. The sound attenuating panels have a foam core that reduces construction noise by up to 50%.
Contractors involved with or specializing in healthcare facility renovation, remodeling or related construction projects should be well aware of ICRA protocols before any work commences. In particular, the construction of barriers in hospitals during renovations is critical in the prevention of infections. Many of the leading hospitals and contractors around the country recognize STARC as the premier choice of temporary barrier wall systems offered on the market today. The STARC System is a cost-effective, trusted provider of critical barriers for hospitals that meet and surpass the Class requirements of ICRA construction protocols for such barriers.
Interested in More Information on STARC Systems?