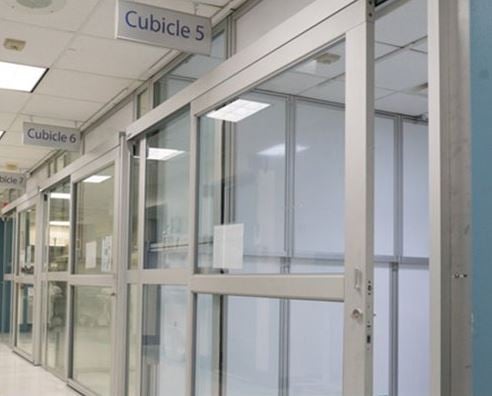 Infection control remains a significant concern for healthcare facilities. Put the COVID pandemic aside for the moment, and the risk of healthcare-associated infection (HAI) during a hospital stay is still one in seven, even in high-income countries like the United States. On average, 10% of affected patients do not survive.
Yet, a recent World Health Organization (WHO) report indicates that 70% of healthcare-associated infections (HAIs) can be prevented with proper infection prevention and control practices. Besides improvements to hygiene, provider-preventable conditions, and best practices, WHO promotes:
Proper preventative barriers for HAI containment
Negative air pressure or positive air pressure (depending on circumstances)
Isolation areas to prevent the spread of infectious diseases
This year, we're seeing the lingering impact of COVID and a resurgence in influenza and respiratory syncytial virus infection (RSV). While we don't know what viruses and infections will emerge in the future, we do know the need for infection control is constant.
Installing infection control barriers in hospitals and healthcare facilities is crucial to safeguarding patients, staff, caregivers, and visitors. However, maintaining effective infection prevention and control is significantly more challenging when healthcare facilities are undergoing renovation or construction while occupied.
Infection Control During Occupied Healthcare Renovations
Controlling the spread of infection during an occupied renovation is largely a matter of dust containment. While many facilities continue to build drywall or use plastic walls with zippers for containment, these solutions often cause more problems than they solve.
Drywall, for example, creates construction dust and debris during installation and removal. Plastic walls tear easily and often have to be replaced. In some cases, these temporary construction walls have to be torn down and rebuilt because they fail to meet ICRA, NFPA, ASTM, or other healthcare code requirements.
ICRA Class IV requirements focus on barriers to prevent dangerous pathogens and dust from entering patient areas. Whether doing renovations, new construction, or even expanding a patient care area during a surge in admissions, choosing the right barriers to prevent the spread of dust is critical. A Safety Risk Assessment (SRA) should be conducted before construction begins to ensure proper design and infrastructure for infection prevention and control.
Effective Infection and Dust Prevention
STARC's RealWall™, LiteBarier™ and FireblockWall™ prefabricated modular wall systems are used by leading contractors and healthcare systems nationwide.
All three systems are fast-and-easy to install, reusable over hundreds of jobs, and fully ICRA compliant. For example, airtight seals and double gaskets between upper and lower panels provide multiple barriers. HEPA filtration and negative air capabilities isolate airborne particles, and the panels' tongue-and-groove design securely engages to prevent airflow. And, of course, plastic tracks cover all gaps to create flush surfaces.
To learn more about STARC's full line of temporary containment systems, click here.
Interested in More Information on STARC Systems?