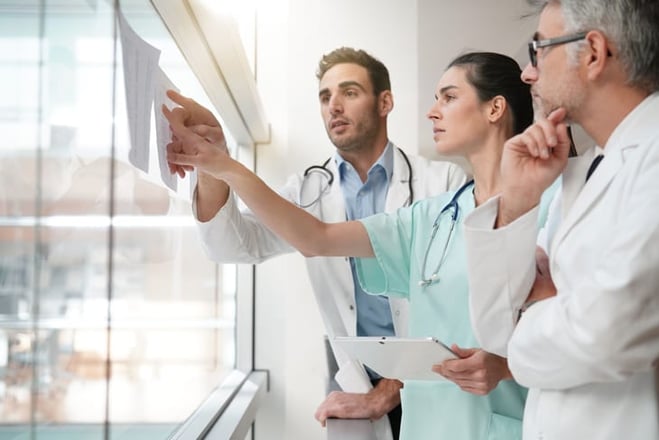 Healthcare-acquired infections (HAIs) have been a major problem in patient safety for decades, affecting 5 to 10 percent of patients who enter healthcare facilities each year. HAIs presents a host of complications. These infections occur during the course of receiving health care and have resulted in significant patient illnesses and deaths. When a patient acquires an HAI they not only suffer, but the duration of their hospital stay is prolonged, additional medical diagnostics and treatment are needed, along with substantial costs that are incurred to treat the patient. Because so many HAIs are preventable, they are considered a prime indicator of the quality of healthcare, patient care, and safety at hospitals, clinics, and medical offices alike.
What is an HAI?
Healthcare-acquired infections (HAI), also referred to as hospital-acquired infections, healthcare-associated infections, or nosocomial infections are infections that patients acquire while receiving treatment for a medical or surgical condition. HAIs can occur in any healthcare setting. At hospitals and same day surgical centers, at health clinics, nursing homes, rehab centers, long-term care facilities, even a visit to a doctor's office can result in an HAI for a patient.
The incidence of HAIs varies by location and their causes can be attributed to a variety of reasons. Catheters and ventilators are a common source of HAIs, but germs or bacteria transmitted between healthcare workers and patients, overuse of antibiotics, bloodstream infections, and surgical related infections are sources of HAIs, as well.
ICRA Certified Construction Barrier in Hospital Setting

Learn why the STARC system is not only approved by Ohio State University's Medical Center epidemiologists buy why they love it.
Read the Case Study
Severity of HAIs
HAIs have a devastating impact on the US healthcare system. A recent CDC (Center for Disease Control) hospital prevalence survey reported that on any day, 1 out of 31 hospital patients acquires at least one healthcare-associated infection during their stay. Meaning, in total, 650,000 patients contract an HAI annually during their hospitalizations, with 72,000 of those hospital patients dying. Across the entire US healthcare system, more than 1 million patients are affected each year.
The costs for HAIs continue to balloon, causing billions of dollars to be added to the healthcare system. For example, patients that develop an infection after surgery are more than 60 percent likely to be transferred and admitted to the hospital's intensive care unit. Those surgical site infections alone account for an estimated $10 billion in additional healthcare related expenditures annually.
Another major concern with HAIs is the emergence of super germs. Recent studies have found a growing number of HAIs are antibiotic resistant. The pathogens (germs) are adapting and becoming immune to antimicrobial drugs that are used to fight them.
How Do You Stop HAIs?
The sad truth is that HAIs are not only preventable but are the leading cause of avoidable deaths in the country. In order to prevent infections, healthcare facilities need to have an infection prevention program in place and in practice. Basic elements of such prevention programs must be designed to not only stop the spread of infection in healthcare facilities but to establish a practice that consistently reduces the risk of infection among patients as well as healthcare personnel.
The CDC recommends that Infection Control Risk Assessment tools (ICAR) be developed and implemented at all healthcare facilities, practices, and settings to reduce and control HAIs.
All healthcare personnel should be skilled in infection prevention competency, awareness, and a proven ability to apply essential knowledge, skills, and abilities to prevent the transmission of pathogens during the provision of care.
Various combinations of interventions can be used for reducing infection incidents.
HAIs can be minimized through a number of methods ranging from improved hand hygiene and patient contact precautions to active surveillance and establishing environment control measures that include proper ventilation and containment systems.
Environmental control measures are those performance measurements used to ensure that ICRA infection control standards are met.
This would include eliminating dust and particulates from vulnerable patients to aid in reducing and prevent HAIs.
For example, during construction, remodeling, and renovations at hospitals and healthcare facilities, innovative containment solutions such as STARC Systems modular walls that meet and exceed ICRA Class IV requirements should be erected to prevent airborne pathogens from circulating through the facility.
In the past, simple HAI prevention strategies were often overlooked. An HAI was seen as an unfortunate risk of the healthcare system. However, with so much recent research, prevention measures have been institutionalized. With continuing efforts and consistent practices, healthcare systems can reduce and prevent the spread of HAIs throughout each healthcare facility.
Interested in More Information on STARC Systems?