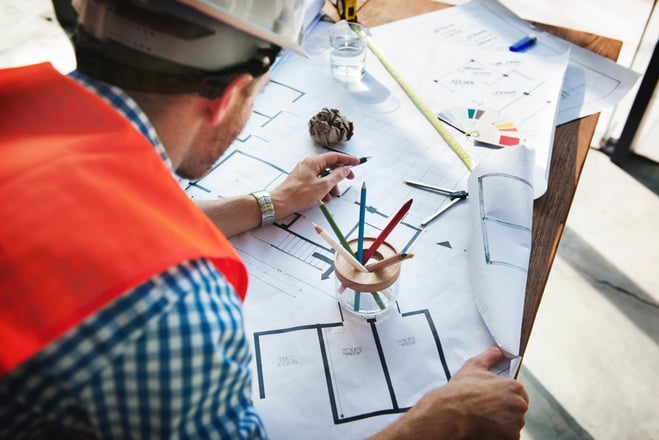 Today's occupied renovation contractors are experiencing a new level of unpredictability: supply chain inconsistencies and unforeseen price escalation, building owner uncertainties and schedule changes, labor shortages and unprecedented gross margin challenges. Exactly the kind of big-picture outlook you'd expect to make contractors eye small-but-meaningful changes that could take some of the sting out of their day-to-day operations.
One of these small-but-meaningful changes pertains to temporary containment – something required of all occupied renovation projects in order to mitigate noise and prevent dust and debris from emanating into the work environment.
Not just wasteful and inefficient
If you're performing an occupied healthcare renovation, you are required to provide ICRA containment in order to protect patients, staff and visitors from the spread of airborne pathogens, and to help keep occupants safe from COVID-19.
Traditional methods of temporary containment call for constructing a barrier with metal studs and drywall. At the end of the project, these temporary walls are demolished, creating noise, dust and debris, as well as an abundance of non-biodegradable waste.
This process isn't just wasteful and inefficient; it requires contractors to rely on materials that increasingly are unavailable, or subject to sudden price hikes.
It's not all bad news, of course. Although the cost of gypsum-based products continues to climb, wood product pricing Is dropping – a trend several experts say should continue as the year winds down. And according to the U.S. Bureau of Labor Statistics (BLS), construction spending for the first eight months of 2021 was roughly 7% higher than during the same period last year. Unfortunately, this good news is held in check to some extent by uncertainties surrounding product availability.
Clever management for uncertain times
In order to combat the uncertainty of delivery – and the time wasted with traditional containment methods – many contractors have turned to prefabricated, modular temporary containment systems to improve quality of work, time of installation, overall appearance, and to provide a sustainable alternative to single-use drywall.
For these reasons alone, prefabricated containment is likely the fastest growing trend in containment practices. Although initially more expensive than a single-use containment system, savvy contractors are now using prefabricated modular systems to actually improve profitability, both at the project and company level.
In an upcoming webinar, STARC Systems' Vice President of Strategic Partnerships Chris MacKenzie will join Leisa DuPuy, our Chief Financial Officer, to discuss how contractors are:
Bypassing supply chain challenges by selecting a reliable, U.S.-based manufacturer/supplier who can ship fully preassembled wall systems within a week of the order
Finding a system that can easily pay for itself in just 3-5 phases or projects
Continuing to receive containment fees, even after the system has paid for itself (with the system generating revenue for each project thereafter)
Creating in-house distributor divisions and buying very large quantities of the most durable systems – which they then supply fully assembled, for a fee, to multiple projects
Avoiding charging the entire cost of the system to one project by spreading it across multiple projects at costs equal to, or less than, traditional sheetrock costs via accelerated depreciation and IRS Section 179
Taking advantage of lower-cost services, such as system rentals in certain geographies across the U.S.
Prefabricated, modular temporary containment systems aren't new, but they have improved quite a bit over the past five years. The advantages they provide over traditional containment methods are becoming more and more relevant as supply chain issues, rising prices and labor shortages continue to make their presence felt during project planning, as well as on job sites.
If you're as concerned about this new age of unpredictability as we are, join us Dec. 2 from 1:00-2:00 EST for an enlightening business brainstorm.
During this casual, Q&A-style event, our in-house experts will draw upon customer experiences – and their own financial creativity – to share how contractors are using our systems not only as a high caliber differentiator, but as a total revenue generator.
Register now for STARC-O-Nomics: 5 Ways Containment Is Transforming Project Profitability
Interested in More Information on STARC Systems?