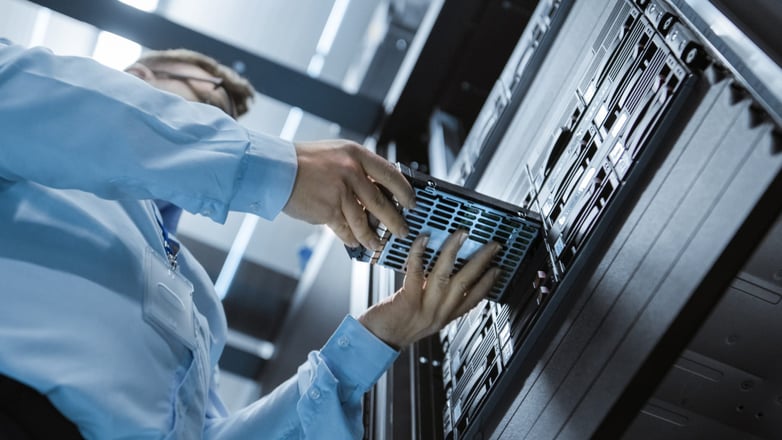 Data centers hold some of the world's most valuable and important information and are often vital to society functioning seamlessly and properly.
From medical information to financial records to social media services, all the information that people and organizations access on a daily basis is moving and being stored through a data center somewhere in the world.
What You Need to Know About Protecting Equipment During Data Center Construction
Data centers are information warehouses that host all or a vast majority of a company's IT operations in one location. These centers sometimes use thousands of servers to store and distribute and direct information.
These facilities can range anywhere from 40,000 square feet to 900,000 square feet. For example, Facebook recently announced it was planning on building a new data center in Columbus, Ohio, that would span 900,000 square feet and have a price tag of $750 million. (Construction Drive)
"The data center continues to be an absolutely critical part of the business. Beyond anything else, we're going to see new kinds of demands and business requirements which will impact the way we leverage technology and the entire data center model." - Data Center Knowledge
It's no secret that the information stored and kept at these data centers are of the highest importance. But like all warehouses and commercial properties, the need for renovations arises as the center comes across necessary updates and repairs.
According to research, on average, 5.3 data centers will be renovated per organization. That number increases to 7.8 data centers over the course of 12 months.
When Dust and Debris is Not An Option
Construction poses a high risk to the servers in data centers, with dust and debris stirred up as renovation projects occur. The need for containment is non-negotiable, especially in places where the information is stored is so valuable.
Data centers cannot afford to have their data hubs contaminated, and require a reliable system to ensure that the servers are kept safe. For construction teams contracted to perform renovations, but fear the damage that could be done to the equipment that holds highly sensitive information, the STARC containment system ensures the protection needed.
For example, Oxford Networks (now FirstLight), offers a robust suite of advanced telecommunications products, including data centers with best-of-breed technologies. Oxford Networks' high-end clients have stringent requirements for their data centers.
In addition to reliable security, they also require workspace areas within their suite that they can manage themselves. The standard practice for data centers is a cage system, which requires a significant amount of labor to install, doesn't look good and does not protect from dust and debris. They needed a durable and innovative solution that allowed for more flexibility. STARC provided that solution.
"The ability of the STARC System is its ability to adapt to whatever our customer needs are and is a real selling point," said John Coray, Operations Manager at Oxford Networks. (Read The Case Study)
A Temporary Wall Solution More Effective Than Drywall
The STARC System eliminates the disruption of renovations with a temporary wall solution that blends into the background and looks like a real wall. It is easy and quick to set up, provides a positive ROI after just a few uses and is exceptionally durable. It reduces the spread of dust and debris which increases when contractors use old containment methods such as drywall.
STARC System is designed to ensure that sensitive hardware is kept safe and secure during small and large renovation projects.
Written by Gearhart and Associates, LLC. for STARC Systems, Inc. Gearhart and Associates are industry experts in Infection Control Risk Assessment (ICRA) training, Infection Control and Prevention Strategies, and Facilities Risk Management.
Interested in More Information on STARC Systems?