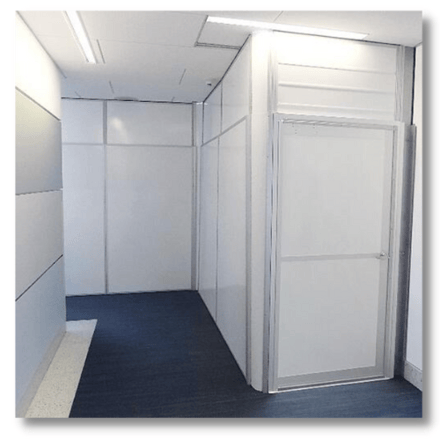 As we head into the New Year, it's worth noting some of the most popular topics covered over the past 12 months. Following are the Top Five blog posts that resonated most with our growing audience of contractors, project managers, facilities managers, infection preventionists, and others tasked with eliminating disruption during occupied renovations.
5. What is ASTM E90 for Sound Transmission?
A wall system's sound attenuation, or ability to reduce sound pressure, can be measured in laboratory conditions through a test published by ASTM, under Standard E90-Laboratory Measurement of Airborne Sound Transmission Loss of Building Partitions and Elements. Find out how it works by clicking here.
4. ASTM E119, ASTM E84 and Fire-Rated Barriers: What You Need to Know
For occupied renovations conducted in hospital settings, national and/or regional jurisdictions often require a one-hour fire-rated temporary construction wall, especially if there's no working sprinkler system in place. Requirements and testing specifications can vary by state, city, hospital, and even project – and they can get a little complicated. We asked Joshua Brackett (PE, SASHE, CHFM), our go-to fire safety expert, to weigh in on ASTM E119, ASTM E84 and fire-rated barriers. Find out what you need to know here.
3. 5 Cases Using ICRA 2.0: Test Your Understanding
Dr. Haas was kind enough to follow up on her original ICRA 2.0 article (see #1) with an interactive exercise that applied the latest ICRA updates to several construction and maintenance scenarios typical for healthcare facilities. Ready to test your knowledge? Click here.
2. Anterooms: Your Questions Answered
When is a small room leading into a larger room worth paying attention to? When it's a part of infection control that allows facilities to conduct renovations without having to shut down areas of the hospital. To learn why anterooms are a vital tool for helping to reduce the number of hospital-acquired infections (HAIs), click here.
1. ICRA 2.0: Eliminating Guesswork for Safer Healthcare Renovations
Any industry-wide push to improve infection control brings an opportunity to reconsider traditional approaches to containing dust, dangerous pathogens, and risks associated with fire and smoke. In this article, Dr. Janet Haas, Ph.D., RN, CIC, Principal Consulting Epidemiologist at Innovative Infection Prevention, explains the recent changes from the original ICRA to ICRA 2.0. Learn More
We hope you find this information helpful. To see our complete line-up of posts aimed at eliminating disruption during occupied renovations, visit the STARC Systems Blog.
Interested in More Information on STARC Systems?