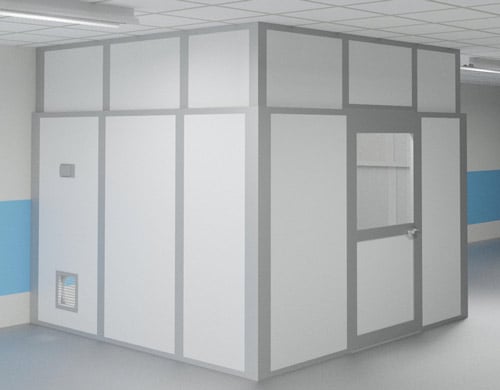 Anterooms
act as an essential tool for healthcare facilities and construction companies alike. When used as a part of a healthcare facility's infection control strategy, anterooms used as isolation rooms help mitigate further spread of infectious diseases, like the current
COVID-19 pandemic
or even
hospital-acquired infections (HAIs)
.
They are an effective solution to create a negative air barrier that prevents infection spread and creates a suitable area for the donning and doffing of Personal Protective Equipment (PPE).
During renovation or construction, anterooms prevent the need to close down an entire wing of a healthcare facility and relocate patients.

We often get asked the basics of anteroom function and configuration. Below is a list of common questions about anterooms and the answers.
Anterooms Defined: From Construction to Infection Control
What is an anteroom used for?
In general, an anteroom is an architectural feature found within buildings: smaller rooms or spaces used as an entryway into a larger space or room. For example, an anteroom for construction during renovation projects in office buildings can provide a transition space to separate the construction work area from the office work area. As an outer room that opens into or provides access to another room, anterooms serve as a functional space. They can be temporary or permanent, depending on the design or intended purpose of the space.
Today, anterooms are increasingly used as temporary functional spaces, as transition spaces during renovation or remodeling projects, particularly as related to hospital construction, erected for infection control strategies, or used during public health crises.
When Should You Use an Anteroom in Hospitals?
There are a number of circumstances in which anterooms should be erected in hospitals and healthcare facilities.
Patient Isolation or Infection Control
Anterooms, or Airborne Infection Isolation Rooms (AIIRs), can also be used to ensure patient isolation in instances in which disease control is necessary. Isolation is a critical component in infection control protocol and procedure. Infected persons must be placed in AIIRs to contain a disease or virus as well as the further spread to other patients, staff, and healthcare personnel.
Like for hospital renovation purposes, anterooms for the prevention of spreading infection, virus, or disease are also useful as an area for the donning and doffing of PPE.
Is Your Hospital Prepared?
Prevention of HAI's
An anteroom is a necessary tool and an important infection control measure when hospitals undergo remodeling, renovations, additions and other capital construction improvements. Throughout any construction or maintenance, hospitals continue to function twenty-four hours a day, seven days a week. Patients and staff need to be protected from contaminants, particulate matter, dust or airborne pathogens that could stir during construction. Temporary barriers are erected to contain the dust and debris within the work areas. They are essential in preventing and controlling hospital-acquired infections (HAIs) for patients.
As an added measure of containment, anterooms are employed to control contaminated air and the airflow between the worksite and sensitive patient areas. The anteroom acts as a decontamination chamber. The points of egress in the transition space created by the anteroom are sealed by a door at either end. It's a simple concept in design, installation, and practice. People exiting the construction zone will enter the anteroom. When the door is shut behind them it creates a negative air environment. Once that door is closed the contaminated air cannot flow out into the sensitive patient occupied areas. Workers can remove their protective clothing, helmets, goggles, garments, etc., i.e. their PPE's, while in the anteroom.
Healthcare Facility Construction or Renovations
They are essential during construction projects as well as routine hospital maintenance. The anteroom can serve as an effective space between construction work or maintenance areas and patient, visitor or staffing areas without fear of contamination.
STARC's reusable temporary RealWall™ containment systems exceed ICRA Class IV and ASTM E-84 requirements. They are the premier solution to protect sensitive patient occupied areas from renovation work areas, essentially isolating patients from the debris and dust arising from construction.
What is the value of an anteroom?
Anterooms play an important role in minimizing risk to hospital patients and staff either during renovation or a new public health crisis. They may also help as part of a strategy that hides disruptive renovation and contributes to patient satisfaction. A well designed temporary containment and anteroom combination can be visually appealing and noise-reducing where stress may already be high for patients and staff.
How do I pick the right anteroom configuration?
Picking the right anteroom configuration will in large part be related to the requirement or need.
Construction, maintenance, or public health crisis?
Which area of the facility the work is undertaken?
Administrative offices or surgical suites?
Instant Isolation. Anywhere. Anytime.
STARC's isolation room kits feature RealWall™ modular wall panels to provide hospital and healthcare facilities with a rapid set up of AIIRs compliant spaces. The panels come in six size ranges and have negative air capable solutions in the event of rapid deployment and flexible configuration options for quick isolation of a patient. They are completely customizable depending on the need and can be reconfigured or expanded as well.
How long does an anteroom take to install?
An anteroom created with STARC systems can be deployed rapidly. A 10′ x 10′ room can be set-up in 10-15 minutes. The panels are simple interlocking components that, once assembled, provide isolation and containment rooms.

Interested in More Information on STARC Systems?