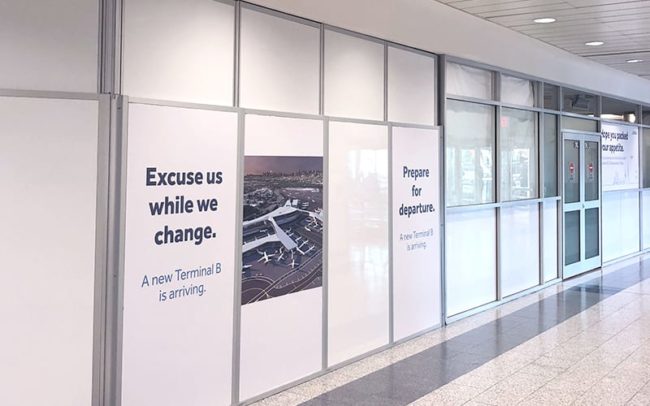 In today's economy, airports have become more than centers of transportation. They have emerged as bustling centers of commerce and development. With the latter come renovation and construction projects that are commonly undertaken amongst immense crowds on their way
somewhere
.
Temporary airport walls
become necessary, if not essential, to complete these projects successfully and without incident or concerns for liability.

Navigating check-in, checkpoints, and finding the right terminal can be a challenge to the occasional or most seasoned traveler without construction going on. When it is, contractors and project managers alike turn to STARC's temporary walls and partition systems as the optimal solution to manage and alleviate the inconveniences that renovation projects present.
How Airports are Keeping Up With Travelers' Demands
These days, renovation, and expansion projects are not uncommon at airports. On average, airports are seeing air traffic grow at a rate between 2 percent and 8 percent per year. Some airports are even seeing their traffic double each decade. Renovations and expansion at airports are happening not just because of the convenience of getting from point A to point B—airports serve their communities in more ways than travel. They are gateways to the regional economy, and in general, airports own considerable land that is constantly being developed for more revenue-generating uses than aviation.
It's no wonder that construction at airports may seemingly be ongoing—in many instances it is. Capital projects have become commonplace. With airports controlling large tracts of prime real estate, in today's economy that property has become highly marketable. Modern airports generate more revenue from non-aviation sources, and in some cases, by as much as a 2 to 1 ratio. Airports are now booming centers of commerce for retail establishments ranging from bookstores, massive food courts, and posh restaurants to chain stores, hotels, convenience stores, and duty-free shops.
With so much construction and expansion underway and ongoing, airport project managers and contractors are continually pressed to manage the flow of travelers, i.e., the customers, while they wind their way through the airport on their way from or to a destination during construction. Controlling pedestrian traffic during times of construction or renovation becomes a priority for the duration of the project, with the goal for project managers to limit the disruption to travelers and businesses, and to do it safely.
Temporary Airport Walls That Eliminate the Disruption of Renovation
STARC modular wall systems provide aesthetically pleasing temporary airport walls that can meet the challenges presented by airport renovation projects. STARC's reusable temporary airport walls are the premier containment system on the market, eliminating the spread of dust and debris from the work zone. The superior sound attenuation reduces noise levels by up to 50% of renovation noise, too.
Once installed, STARC systems maintain and control the flow and direction of pedestrian traffic away from busy construction zones, creating safe passage. STARC temporary walls provide superior durability from incidental knocks from rolling luggage, or as travelers rest against the structure. As for added safety, STARC Systems temporary walls are sustainable, environmentally friendly panels that have a Class A rating per ASTM E 84 standard, meaning they have the lowest fire spread rate and minimal smoke production.
Airport contractors will realize an ROI usually after one project. STARC's RealWall™ and LiteBarrier™ systems are reusable, making the temporary airport walls ideal for multi-phase renovation and expansion projects that are ongoing at airport facilities. They are real-looking walls designed and engineered to last through the years. Easily assembled and installed—on average two people can assemble or dismantle 100-foot sections within an hour, saving on labor costs. The lookalike walls can be configured and moved around where and when necessary through each phase of the renovation or construction project.
Contact the STARC team today to find out more about how temporary walls can help airports during renovations.
Interested in More Information on STARC Systems?