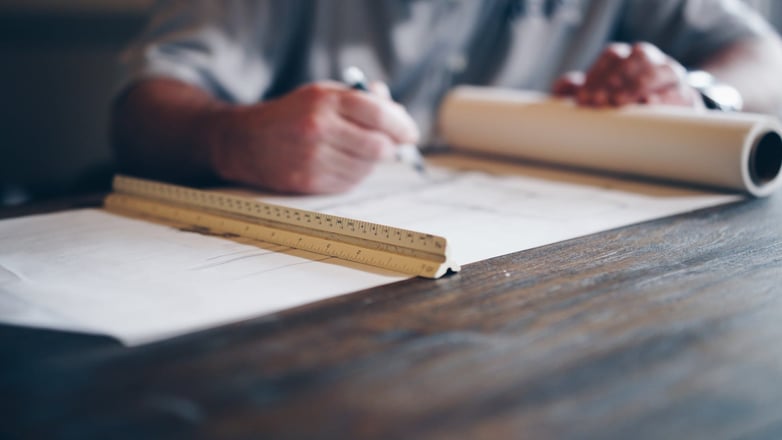 Building contractors who specialize or are involved with hospital, nursing home, or any type of medical facility renovations, additions, repairs, or remodeling should be well aware that patient satisfaction with healthcare service is a top priority for hospitals.
A key to success for healthcare building contractors is being sensitive to the hospital environment and patient satisfaction during construction or renovation phases. In this regard, contractors in the field of healthcare construction would benefit greatly from utilizing temporary wall systems to mitigate infection control risk and to protect occupied sensitive areas, susceptible patients, visitors, and staff from airborne contaminants.
Hospital Environment and Patient Satisfaction During Renovation
Temporary walls are an important and essential tool for healthcare contractors. On the one hand, the walls must meet the ICRA Class IV (Infection Control Risk Assessment) protocol before any type of construction project begins. On the other, and just as important, the walls can contribute to patient satisfaction with their healthcare experience. Healthcare contractors' knowledge of ICRA standards and its importance as it relates to patient safety is essential for the success of their business and the business of healthcare providers.
Hospitals focus on achieving patient satisfaction not only for the health and well being of the patient, but because it also boosts Medicare reimbursements to hospitals when they achieve high patient survey scores. Ultimately, patients are customers, and customer dissatisfaction means lower scores for hospitals and loss of reimbursement. HCAHPS, the Hospital Consumer Assessment of Healthcare Providers and Services, is a national standard patient satisfaction survey tool utilized by Medicare. Hospitals can earn or lose funding of Medicare reimbursements based on HCAHPS scores. The work of healthcare contractors in regard to patient satisfaction relates to two of the key topics in the survey that deal with potential environmental effects of renovation or other construction projects at hospitals. The two topics are as follows: the cleanliness of the hospital environment and the quietness of the hospital environment.
Healthcare Construction Challenges and Opportunities
As more hospitals undergo renovation to keep up with advances in healthcare and healthcare technology, contractors are faced with a degree of complexity to fulfill those needs. In addition to an advanced level of expertise necessary to renovate or remodel hospitals or medical buildings, healthcare construction projects require a collaborative effort among contractors, project managers, infection control professionals, and hospital administrators to ensure patient health, along with visitors and staff, during all phases of renovation or construction.
Renovation zones generate dust and debris that make it difficult to complete normal tasks in any workplace, let alone a hospital or medical office. Keeping a hospital functioning at full efficiency during construction projects is not just necessary, but essential to patient safety and facility operations. The fact is, there is no room for error. Healthcare contractors, in conjunction with, hospital officials and project managers must design and implement a containment strategy to prevent the risk of infections from the renovation work. In fact, all parties involved with the renovation or construction work must have an ICRA strategy in place before the project commences.
Risk assessments and like variables associated with renovations or construction are mandated by law. What kind of disruptions need to be assessed and anticipated? The duration and scale of the project—foundation work, demolition, debris, and fugitive dust control must be accurately assessed. How will the work affect patient groups and specialty services such as ICU, Neonatal ICUs, ORs or even the hospital pharmacy be anticipated? Healthcare contractors know that their work has the potential to release airborne pathogens and discharge microbes that can remain suspended in the air on dust particles during construction.
To protect patients, contractors can work with hospital project managers to seal off work zones with effective temporary containment that meet ICRA protocols. One such strategy would be in implementing an aesthetically pleasing temporary wall containment system that would allow patients, visitors, and staff to move around, by, or adjacent to work zones without disruption. Temporary containment walls mitigate the potential for airborne pathogens released during construction to spread through the hospital. They also provide access for construction workers to transport materials, waste, and debris in and out of the facility while maintaining a clean, quiet hospital environment.
See How Much You Can Save with STARC Systems
The Optimum Solution: More Than Just a Dust Barrier System
STARC provides temporary modular walls that comply with ICRA Class IV standards and are specifically designed to exceed rigorous standards for healthcare construction projects. The reusable, airtight panels are easily cleaned and disinfected, but also provide sound attenuation to help ensure a patient's stay and recovery in the hospital is a quiet one. STARC modular foam core that eliminates up to 50% of renovation noise and a durable galvanized steel back. Once installed, they offer visually pleasing corridors and passages to provide uninterrupted patient care as well as patient, staff and visitor safety.
The healthcare industry has evolved significantly in recent years, with an ever-increasing focus on patient satisfaction and services. Healthcare contractors have an important role in the industry and face many unique challenges. Certainly, one the most important is how their work relates to a quiet, clean hospital environment. In fact, construction trends in healthcare center on meeting patient needs and satisfaction while the work is ongoing. STARC temporary walls are one such solution that can aid healthcare contractors greatly by providing an effective, sound attenuating containment system for healthcare facilities as they seek to improve customer and patient satisfaction.
Interested in More Information on STARC Systems?