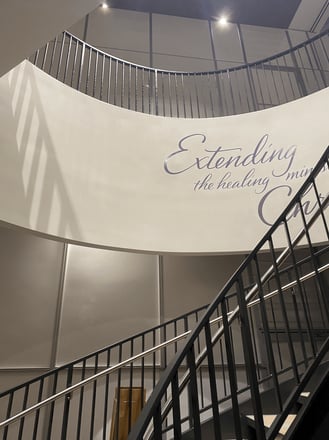 Temporary containment isn't the exciting part of any occupied renovation, but it has its place in the overall project. As often as not, the small choices that go into deciding which method of temporary containment to use impact overall project success – particularly if there are aspects to the job that require flexibility, or special accommodation.
We've pulled together three of our favorite occupied renovation projects at healthcare facilities to show you what a big difference these small choices can make.
Need to quickly enclose a two-story staircase without deploying a team of tradesmen? Click below to see how one of our rental partners tackled the challenge on behalf of the contractor.
Or maybe prioritizing patient and staff safety while keeping noise to an absolute minimum during a long-term project resonates with you. Find out how one mental health recovery center overcame this challenge by working with a contractor who understands what a big difference a small choice in materials can make.
Of course, we'd be remiss if we didn't include a challenge that so many healthcare facilities have struggled with since January 2020 – creating additional patient surge capacity. See how one design and construction team managed to contain the spread of infection while creating additional isolation capacity within the Emergency Department, maximizing interior spaces throughout the hospital, and rethinking existing facilities with an eye towards reducing virus spread. See the challenges here.
Interested in More Information on STARC Systems?