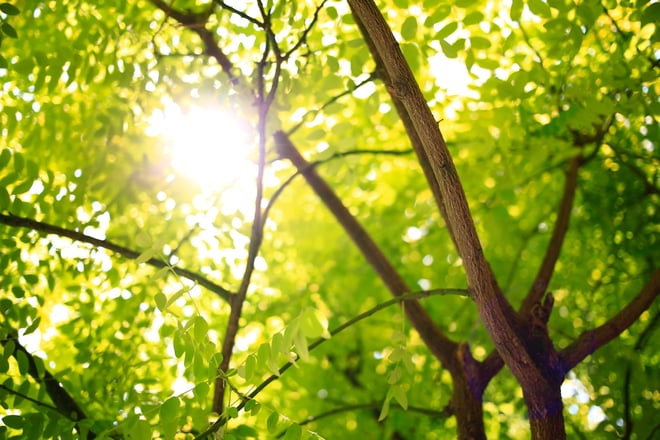 From product production to the extended life cycle of our panels, STARC is an eco-friendly company that believes in sustainable manufacturing practices. How do we practice sustainability in an industry that oftentimes produces extreme waste and single-use solutions? We are proud to partner with our customers to keep it green from our manufacturing facility to the product we create.
Our Facility: Our 16,000 sq. ft. state of the art production facility in Brunswick, Maine is 100% powered by biofuel and solar energy with all new LED lighting.
We don't generate or consume VOC's and all our scrap metal from production is recycled. Internally, we recycle all packaging materials and always strive for reduced dunnage through the supply chain.
Eco-friendly packaging: Our panels leave our facilities in "green" packaging; our customers can easily recycle all packaging material and eliminate waste. STARC panels arrive on a cart which can be repurposed for future storage and delivery of panels.
Reuse our panels: STARC panels are environmentally friendly and reusable. Conventional drywall and poly barrier temporary containment walls are thrown out with every use. STARC Systems temporary containment panels can be reused for years and come with an industry best 3-year warranty.
Sustainable Manufacturing Practices in Healthcare Construction
Dustin Clement, Supervisor at Suffolk Construction is one client that appreciates the ability to use the STARC system project after project and that we offer complementary accessories allowing his team to solve almost any containment situation they come across. "It's great that they are reusable. I can always grab from the inventory I have here and use them on any project. We have 6-7 panel carts filled and ready."
He keeps the panels on rotation at Brigham and Women's Hospital in Boston. "We have up to 5 projects going at one time at the hospital. We are constantly moving them out. My crews are fighting over them."
Suffolk Construction is just one of the dozens of leading US construction companies which rely on STARC Systems; read the case study here. To view more case studies, visit our Healthcare Case Studies section.
Interested in More Information on STARC Systems?