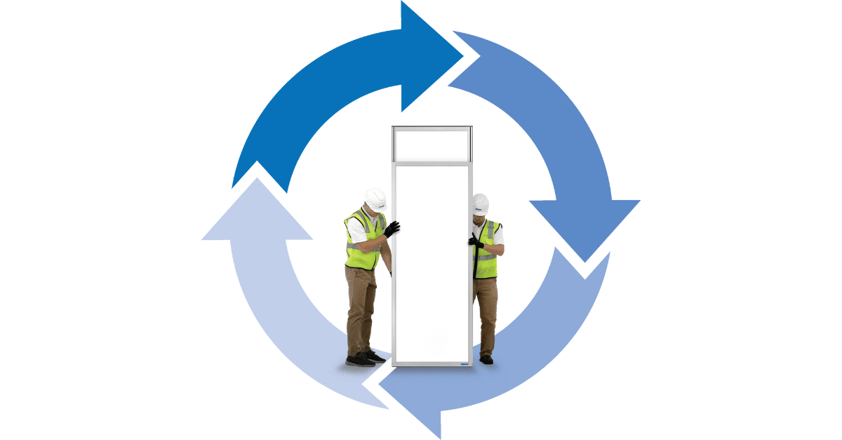 Last month, we considered how the increasing adoption of temporary reusable construction walls for the containment of waste and debris is helping to reshape the industry's sustainability landscape. Particularly among industry-leading solutions providers, the impact is measurable and tangible.
Saves on Landfill Waste & CO2
STARC's sustainability efforts to date, for example, have prevented 90,546 tons of single-use drywall from going to landfills1. We've also made impressive strides in reducing emissions, avoiding the production of over 35,000 tons of CO2 emissions in gypsum production for temporary containment.2
But STARC's green story doesn't begin and end with its product lines. In fact, the company's commitment to sustainability starts with its physical location on a former Naval Air Station in Brunswick, Maine.
Fueled by Renewable Energy
Now serving as an industrial park called Brunswick Landing, the property is managed by the Midcoast Regional Redevelopment Authority (MRRA), which acquired control of the infrastructure from the Navy in September 2011.
MRRA owns the electrical grid and manages a power load of approximately three megawatts, distributed over a 15-mile network of power lines—and it's all sustainable.
"One hundred percent of the energy on this campus is renewable," said Woodie Bartley, Utilities Director at MRRA.
Campus-wide, roughly 10% of the power is supplied by an on-site solar farm. The remainder comes from off-site wind energy facilities. Within the next two years, MRRA plans to increase on-site power production from one to two megawatts. Over the next 10 years, the plan is to build-out a generation and storage facility so Brunswick Landing can generate all of its own power—a goal Bartley thinks should be mostly achieved within the next five years.
It's a synergistic relationship that works. Brunswick Landing has served as an incubator to STARC, making it easier for us to grow into our own sustainable operation.
Emphasis on Recyclability
One of the ways STARC upholds its commitment to sustainability is by including recycled materials in our products—in some instances, as much as 70%. Although we're still working towards building greater consistency across our product lines with regard to recyclability, the path is clear: STARC is actively evaluating and prioritizing the inclusion of recycled materials in all of our temporary reusable construction walls and accessories to the greatest extent possible.
"Currently, our components are made with recycled steel and aluminum, and our panels are 95% recyclable by weight following a long lifespan of re-use," said Bruce Bickford, Vice President of Product Development. "The typical break-even point is three to five uses, but due to their extremely high durability, it's very common for our panels to be re-used dozens of times. In some cases, 50 times or more."
In addition to running our entire operation on renewable energy, saving on landfill waste, reducing CO2 emissions, and working to increase reliance on recycled materials, it's worth noting that 95% of contractors return STARC walls to central storage or immediately reinstall them upon project
completion. This level of efficient resource management further minimizes waste and sets a compelling model for others in the industry to follow.
Want to share these highlights internally with your own ESG champion? Download this one-page infographic.
Learn more about how Brunswick Landing leverages renewable energy on behalf of tenants like STARC Systems.
---
Sources and methods.
(1) Linear feet and landfill impacts calculated from 2022 customer re-use survey and customer purchase history.
(2) EPA conversion factors applied to tonnage of drywall waste avoidance estimates.
Interested in More Information on STARC Systems?