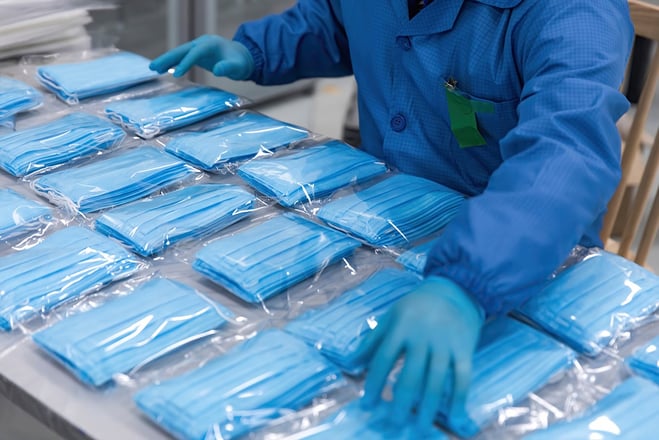 As of April 15th, the global total of COVID-19 infections inched closer to 2 million, 1,956,077 cases in 185 countries, 125,123 fatalities, according to
Johns Hopkins

Community spread infections like the current COVID-19 pandemic is the spread of an illness for which the source of infection is unknown and is generally very rare in the U.S. The coronavirus that causes COVID-19 is primarily transmitted through droplets from an infected person's cough, sneezes, or even through speech. While It is not certain how long the virus can live on surfaces studies suggest that coronaviruses (including preliminary information on the COVID-19 virus) may survive for a few hours or up to several days, depending on factors such as type of surface, temperature, and/or humidity.
A Plan to Address Community Spread Coronavirus
Different areas of the U.S. are seeing different levels of COVID-19 cases. COVID-19 cases include:
Infections from exposed travelers
Cases among close contacts of a known case
Community-acquired/community spread cases where the source of the infection is unknown
Globally, there are massive efforts in place to help flatten the curve of this pandemic including, isolation, self-quarantine, shelter-in-place orders, and social distancing recommendations. When COVID-19 is spreading in your immediate area, close contact with individuals outside your household in indoor and outdoor spaces should be limited. As people can spread the virus before they know they are sick, it is important to stay away from others when possible, even if you have no symptoms.
A recent article published by NPR refers to asymptomatic carriers as the "Silent Spreaders Of COVID-19" reporting that people may carry the active virus in their body but never develop any symptoms. This dramatically increases the concern that people who are infected and feel fine go about their daily lives, spreading the virus without knowing that they have the virus themselves.
While asymptomatic infections are a growing concern, 75% of people who test positive without showing symptoms turn out to be presymptomatic, displaying coughing, fatigue, fever and other signs of COVID-19 in a later follow-up exam, said Maria D. Van Kerkhove, Infectious Disease Epidemiologist with the W.H.O.
As the wave of infections moves across the country, healthcare facilities are frantically scrambling to stockpile critical Personal Protective Equipment (PPE), medical equipment such as ventilators, and preparing for patient surge by increasing the number of patient beds and infection isolation areas. A number of cities have prepared alternative care facilities (ACFs) to augment surge capacity in response.
Preparation and planning to mitigate the spread of the virus must include considerations in the areas of:
Social distancing and isolation measures
Acquisition, preparation, and positioning of necessary medical equipment and PPE
Policies to increase access to COVID-19 testing and treatment as well as continued management of other health conditions
Processes around data aggregation, analytics/interpretation, and dissemination
Temporary Containment and Infection Control Barriers
While there are many infection prevention tools and advances that can and should be utilized to reduce the spread of infection, STARC Systems is known throughout the healthcare space as the go-to in temporary containment infection isolation barriers.
Exceeding ICRA Class IV requirements and approved by leading healthcare facilities across the nation, STARC Systems has made a name for itself as a quickly deployable, durable, reliable, and life-saving temporary containment solution provider.
"In an emergency situation, we have little time to react. We need a containment system which can go up quickly and efficiently plus meet our infection control requirements, " says Ron Marstiller, Assistant Director of Facilities at Wexner Medical Center, an academic medical center that serves more than 1.7 million patients a year. "Patient and staff care is our #1 priority at Wexner Medical Center. STARC is 100% approved by our epidemiologists. Our infection control team has signed off on this. They love it." (Read Full Case Study)
The entire Wexner Medical Center staff has given their stamp approval for STARC Systems.
"We are ready for any last-minute situation with STARC Systems," says Brian Arnett, Facility Superintendent at Wexner Medical Center.
Interested in More Information on STARC Systems?