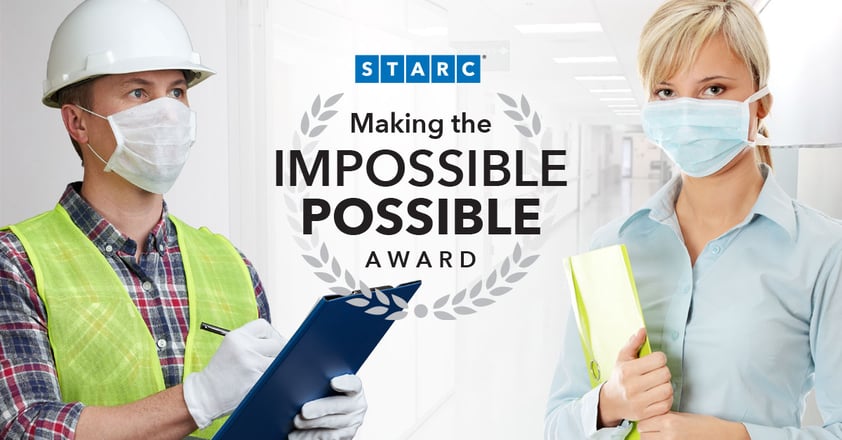 After implementing rigorous safety measures including temporary isolation solutions, this New Mexico hospital has had zero reported COVID-19 cases of patient-to-patient transfer since March 2020.
Artesia General Hospital is the first winner of STARC System's #MakingitPossible campaign—recognizing the healthcare facility professionals who are working tirelessly behind-the-scenes ensuring their hospitals remain safer during the pandemic.
Background
Artesia General Hospital (AGH) is a 48-bed community hospital located in Artesia, New Mexico. The 117,000 square foot facility serves as the main hospital with an additional 13 outpatient clinics spread out across Artesia and Carlsbad. Jeremy Kern is the facility's Project Manager overseeing clinical and construction projects.
As a community hospital, AGH is more than just a place to seek medical treatment. Prior to the pandemic, there was such a high rate of community involvement the hospital was working on a 10,000 square foot expansion of its cafeteria that would include two public meeting rooms for the community and for years they have run a Meals on Wheels program to help feed their neighbors. The hospital serves as a central place for the Artesia community to gather and take care of one another. Due to the nature of this 'open door policy' AGH has a lot of entryways to the building making it easily accessible for its community members.
Challenges
When the pandemic began the biggest challenge for the hospital was to rethink how to close all the access points and reverse its open concept to help keep patients, staff and visitors safe. They quickly realized they needed temporary isolation solutions to create separation. This would necessitate a separate COVID-19 clinic and outpatient testing area, separate entry and exit points to the facility, and redesigning the flow of foot traffic to allow medical staff, patients and other essential workers including maintenance, cleaning and food services, to move to and from areas safely avoiding cross-contamination. It would also be critical to create temporary barriers in high-risk areas such as the Medical Surgical units to ensure patients and staff were protected during procedures that would make them more susceptible to infection.
As the pandemic unrolled and there was not a lot of guidance from the state, AGH decided to work across departments as a team and come up with solutions. Jeremey first saw STARC's wall systems at a conference the month before and was in the process of pitching it for an upcoming OR project. When the need for outpatient COVID-19 testing ramped up, the hospital committed to using half of an ambulance bay for drive-up testing. There was already an existing decontamination chamber, but it did not have an antechamber and with winter coming they would need a better solution. Jeremy noted, "that's when I said, hey we could do this under the canopy and create an exam room inside this emergency bay. So that's what we did. We got the STARC System and built an exam room under the bay. It was set up in 18 hours and has a door, negative air, heat, light and works amazing. Now every patient and staff member that needs testing goes through that exam room safely."
Jeremy and his team also sat down with the surgical team to figure out the best way to keep everyone safe. This included turning a 28-bed Med-Surg unit into a true negative air space by re-engineering the air handler. They created antechambers before and after the Med-Surg units. Systems were also designed to allow medicine pass-throughs in between walls so pharmacy staff wouldn't be exposed to clinical staff inside.
Results
AGH has had no reported COVID-19 cases of patient-to-patient transfer since March 2020.
Turned a 28-bed Med-Surg unit into a true negative air space by re-engineering the air handler.
Completely re-organized the flow of how patients come in and out of the hospital and created a dedicated COVID-19 clinic so that anyone with symptoms can go to the clinic just like it was an independent hospital.
Created a drive-up COVID-19 testing area in the back of the hospital utilizing an existing decontamination room and a STARC wall system.
Created clean and dirty corridors within the hospital using temporary partitions that the Plant Ops staff constructed, separating the hospital into two sections.
Brought back up a Senior Care unit in the hospital that had not been used in four years and turned it into a Post Operative Ortho unit so that elective surgeries could continue and patients would be safe.
Installed over 10,000 Lexan dividers to keep staff safe in their work environment.
Transformed the kitchen to an online catering platform where staff can log on to an account, purchase their lunch and have it delivered to their department.
When it comes to AGH's response to the pandemic, Jeremy added, "it took a team, everyone on our team at AGH pitched in. We're very fortunate to have an administration that backs us up 110% when it comes to doing what's best for the patients and we've seen the same support from our community." AGH has begun its COVID-19 Vaccine Program and are on track to vaccinate 70+% of Artesia's population by June 2020. #ARTESIASTRONG
To say thank you and help support Artesia General Hospital's continued effort to fight COVID-19, STARC Systems has donated $1,000 to Artesia's General Fund.
Interested in More Information on STARC Systems?