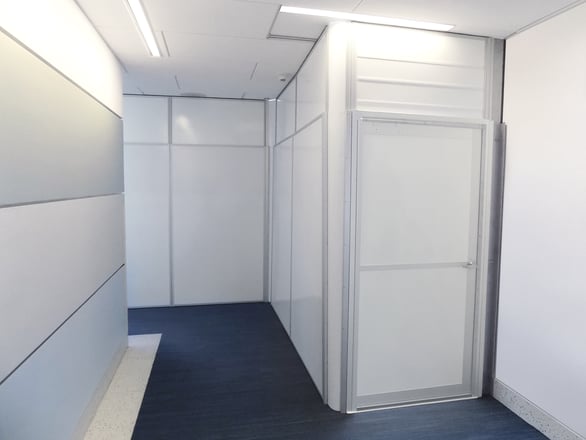 If you're new to modular containment, you may have concerns about the panels not matching up perfectly. It's a valid point, and the way a manufacturer chooses to address it tells you everything you need to know about the quality of the system you're evaluating for purchase – especially if you usually work in sensitive areas, such as healthcare facilities or data centers.
At STARC, we've seen (and solved for) just about every jobsite scenario imaginable. In many cases, challenges identified in the field were brought to our attention by customers. This feedback loop has not only resulted in product improvements, it's also helped us develop a full line of accessories that enables on-the-fly fixes for tricky situations, or custom workarounds.
Here's a closer look at some of the accessories we offer, so you can manage even the toughest containment challenges.
Curved Walls, Irregular Layouts, Uneven Walls
STARC has flexible corners to handle curved walls or unusual angles. These corners also telescope with the panels to form inside or outside corners ,15 degrees to 90 degrees. You can also use multiple flexible corners to enclose curved walls.
Only some walls are plumb, creating a gap between the wall and the temporary containment. Our wall interfaces telescope horizontally and vertically to fill small gaps and create an airtight seal.
Corners and Intersections
Jobsites that require walls to navigate corners, or connect multiple containment walls, can use our T-intersections, allowing you to connect multiple panels together at a 90-degree angle.
Wall Irregularities
Sometimes, things mounted on the wall – handrails, heating units, piping, etc. – can get in the way. Our filler panels are easily customized to fit around wall irregularities, allowing you to maintain the airtight seal you need for containment.
High Ceilings and Open Spaces
Some facilities have exceptionally high ceilings, which makes attaching containment walls to the ceiling impractical. We solve for this with floor braces that attach to the panel's 360-degree attachment system and provide two contact points to secure the panels.
Ceiling braces can also extend up to six feet beyond the top of telescoping panels to reach taller ceilings. Braces, which connect to the top of panels, can then be connected to the ceiling for additional stability.
Door Options
Designed to be the most durable on the market, STARC doors are engineered to provide years of reuse. They feature the same rugged, three-layer construction as our RealWall™ panels, with a clean, white-painted aluminum front that faces the occupied area, a sound attenuating foam core that reduces renovation noise by up to 50%, and a galvanized steel back.
Your three options include our hinged door, our sliding door, or our new double doors. All three provide an adjustable threshold and sweep, which allows for installation on uneven surfaces, and a modular over-the-door kit, which creates an airtight seal from the top of the door to the ceiling. All three options are backed by a 3-year industry leading guarantee. For more information, click here.
LiteBarrier™ Over-the-Door Panel Kit
You can also adjust the number of slats in the over-the-door panel kit to get the perfect fit. Quickly remove or add slats, then tighten them to create an airtight seal. To watch a short video showing how it works, click here.
FireblockCap™
We followed up on the success of STARC's FireblockWall system with the introduction of FireblockCap,™ a ceiling that creates a fully fire-rated enclosure. This accessory eliminates the need for facility managers and contractors to build through the spaghetti above the ceiling—or construct a soffit to the deck—in order to meet code requirements during occupied renovations in healthcare settings. It meets ASTM E119, ASTM E84, NFPA 241, and IBC requirements – and it satisfies ICRA Class IV and Class V guidelines.
In addition to the products referenced above, STARC offers a number of accessories aimed at streamlining your temporary containment process and infection control measures. For more information, contact us today.
Interested in More Information on STARC Systems?