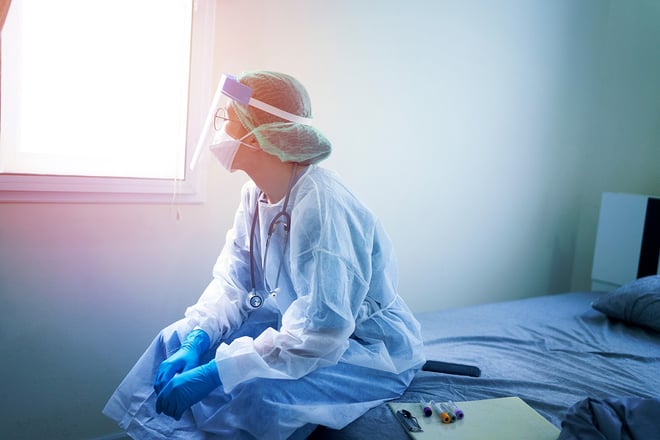 As states begin to re-open their economies, fears of a second wave of the coronavirus are a growing concern. According to the director of the Centers for Disease Control and Prevention (CDC),
Director Robert Redfield
has warned that a second wave of the novel coronavirus will be far more dire because it is likely to coincide with the start of flu season.
"There's a possibility that the assault of the virus on our nation next winter will actually be even more difficult than the one we just went through," Redfield said. "We're going to have the flu epidemic and the coronavirus epidemic at the same time." Flu season—which begins in October and peaks in December—is concerning because having two simultaneous respiratory outbreaks will put significant strains on health care systems. This will also place an emphasis on the need to persuade Americans to get their flu shots to reduce surges and minimize the risk of people being hospitalized from the flu, and occupying hospital beds that may be needed for surges of COVID-19 patients.
Many of the hardest hit healthcare facilities have been financially and physically exhausted. Michael Osterholm, director of the Center for Infectious Disease Research and Policy at the University of Minnesota, said that if a peak second wave hits this winter, "we have the potential here to go through days we have not seen since World War II. As a nation, we will not be ready."
These factors heighten the importance of remaining prepared for what lies ahead. The pandemic mitigation tactics of wearing face masks, physical distancing, washing hands frequently, social distancing, and wearing a mask in public, outlined by the guidelines of the CDC, will remain important measures to enforce. Testing will remain another critical element and hospitals and physicians need to remain steadfast ensuring they have a strong testing network as outlined in the AMA guide to the four signposts that must exist before state and lock governments relax stay-at-home orders completely. Redfield stated in an interview with the Washington Post, that hospitals will need to, "massively scale up their ability to identify the infected through testing and find everyone they interact with through contact tracing. Doing so prevents new cases from becoming larger outbreaks."
Healthcare facilities have been forced to pivot from elective surgeries and non-emergency procedures and focus solely on treating COVID-19 patients. This has created historic financial pressures. The American Hospital Association (AHA) defined four analyses to better understand and quantify these financial challenges. Including:
the effect of COVID-19 hospitalizations on hospital costs;
the effect of cancelled and forgone services, caused by COVID-19, on hospital revenue;
the additional costs associated with purchasing needed personal protective equipment (PPE); and
the costs of the additional support some hospitals are providing to their workers.
Considerations for Non-COVID Care
Preparation for non-COVID 19 care is equally vital and facilities need to prepare for treatment for non-emergency patients and designating areas for non-COVID 19 patient care. The Centers for Medicare & Medicaid Services (CMS) has published a Phase 1 guide (PDF) for reopening facilities to provide no-emergent, non-COVID care, stating:
Decisions should be consistent with public health information and in collaboration with state public health authorities. Careful planning is required to resume in-person care of patients requiring non-COVID-19 care, and all aspects of care must be considered — for example:
Adequate facilities, workforce, testing, and supplies
Adequate workforce across phases of care (such as availability of clinicians, nurses, anesthesia, pharmacy, imaging, pathology support, and post-acute care)
The workforce will need to be routinely screened, and adequate staffing will be necessary to cover a surge in COVID-19 cases. Facility and sanitation protocols are also outlined in the Phase 1 guide (PDF)
According to research conducted by Marc Lipsitch, DPhil, a professor of epidemiology at the Harvard T.H. Chan School of Public Health and director of the Center for Communicable Disease Dynamics, and world renowned scholar on epidemics, the issues of the downsides of the second wave will be a matter of not only reopening, "But the downside," Lipsitch warned, "is that many jurisdictions will have a plan to open up but not a plan to reclose, leading to more situations like New York, New Orleans and Detroit where there's extreme strains on the health care."
Surveillance and Forecasting Hospital Surge Capacity
Researchers are also finding ways ahead of the 2nd wave to avoid being dependent on COVID-19 testing by developing a real-time surveillance system, "Such a system for COVID-19 would fill the glaring surveillance gap left by limited testing and tracking of cases and allow us to forecast hospital surge capacity, discriminate among alternative mitigation policies, and quantify population immunity to prepare for a potential fall wave," said Shweta Bansal, PhD. The knowledge gained would be shared on a web-based dashboard and link the surveillance finding with COVID-Local.org, which is a guide developed for local decision-makers.
Not to be overlooked are the ramifications and collateral damage of the ongoing pandemic fall-out preceding a second wave, especially for front line workers and the hospital workforce. In which Lipsitch spoke to the social stresses of COVID-19 mitigation, and putting more resources towards the social effects of these countermeasures; especially in the areas of mental health issues created by the strain of eradicating lifestyle changes in order to fight COVID-19 and the potential surges of a 2nd wave."In my mind, it's inevitable that we'll have a return of the virus… when it does, how we handle it will determine our fate," said Dr. Anthony Fauci, the director of the National Institute of Allergy and Infectious Diseases It also depends on when an effective, widely accessible vaccine is developed. Experts, including Fauci, have predicted that won't be until 2021, and one Wall Street biotech analyst said he thinks there's a 20% chance of a vaccine helping in 2021, and gave 2023 only a 50% chance.
STARC Systems' COVID-19 Instant Isolation Solutions support a hospital's efforts to prepare for a second wave. The RealWallTM and LiteBarrierTM systems can be quickly deployed as patient isolation rooms, hallway isolation and anterooms to safely contain infectious outbreaks. The re-configurable panel systems exceed ICRA Class IV and ATSM E-84 requirements and can be used to create a safe barrier for staff testing, patient testing, confirmed COVID-19 cases and non COVID-19 cases. Our prefabricated modular temporary containment provides the ultimate flexibility to match your facility needs and can instantly change as your isolation needs change.
Interested in More Information on STARC Systems?