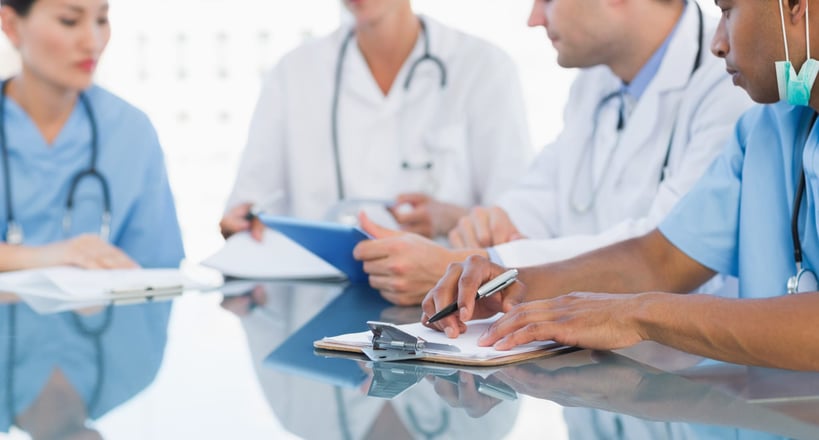 Written by Gearhart and Associates, LLC. for STARC Systems, Inc. Gearhart and Associates are industry experts in Infection Control Risk Assessment (ICRA) training, Infection Control and Prevention Strategies, and Facilities Risk Management.
"Communication matters, especially in hospitals and healthcare systems where patient care, safety, and well-being are the No. 1 priorities." (Becker's Hospital Review)
According to studies, ineffective team communication has been proven to be the root cause of nearly 66% of medical errors. Medical errors increase when the healthcare staff is under stress, in high-risk situations or when communication is not clear. In critical situations, communication among healthcare staff and patients is more important than ever.
Better systems for communication improve efficiency, the quality of care, patient safety, and overall satisfaction. Not only communication on the day to day operations but in the heat of critical situations, such as facility renovation or an unexpected outbreak, where the risk of infection is high.
"The key to success is approaching communication, education, training and new processes in a way that is meaningful for all team members. Begin by drilling down to specific communication breakdowns you want to focus on. Then pull together the interdisciplinary stakeholders involved in the incident and discuss key aspects necessary for communication standardization." - Nathalie Walker, President of the Association of periOperative Registered Nurses (Infection Control Today)
Clear, concise communication increases patient confidence as infection prevention and control strategies are put into play during high-risk situations or extended renovation projects. The time to have the conversation about more efficient communication between healthcare staff, patients, and infection preventionists is now.
Infection Reduction and Control Outcomes Improved
Australasian College for Infection Prevention and Control Board Member Mary Potter had this to say about the part that communication plays in infection control:
"Simple, quality communication is the key to ensuring infection prevention and control outcomes are improved," she says. "Continual education on this prevention must become part of the normal workflow, and must not be compromised because of time and paperwork pressures." (Hospital Health)
Whether it's construction, renovation, or outbreak related, proper communication between all parties involved will ensure safety and effectiveness which translates into good patient care AND patient, visitor, and staff safety.
From the relocation of patients to sound management to training for infection control, COMMUNICATION plays a huge role during high-risk situations. Gaps in communication could result in exposing patients (and staff) to high-risk environments that could cause illness and/or disruption to patient care and safety. Each circle must be kept informed and have a grasp on infection control requirements.
As physicians, physician assistants, nurse practitioners, and health advocacy program members are the diagnostic experts in our medical care system, ensuring the communication between these providers and their patients is critical. (Whole Health Education)
While there are several ways to establish proper infection control, STARC Systems specifically addresses the need for ICRA Class IV containment, sound, and dust reduction during a renovation, and overall infection control as the need arises.
Interested in More Information on STARC Systems?