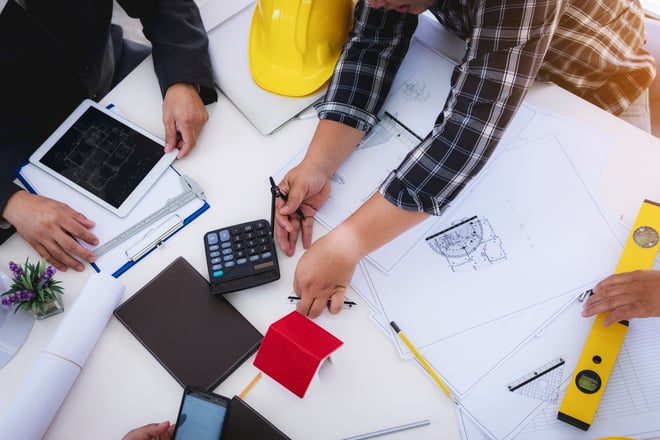 Contractors can spend a lot of time and money putting up temporary walls or barriers during construction or renovation projects. There's the cost of materials, the labor to install, and the expense of tearing it down, disposing of it, and cleaning it up afterward.
While there can be a range of costs, the average drywall installation is running around $169 per linear foot for drywall containment. That's money that can't be recouped. With wild fluctuations for wood and other materials over the past two years, some contractors are seeing significantly higher expenses.
Reusable, modular temporary containment systems provide a cost-effective alternative, especially for contractors who are managing multiple projects. While drywall containment has its place, the ROI on high-quality modular systems is considerable. In some cases, you can recoup 100% of your costs after just two or three uses. After that, any fees you charge for containment and temporary walls are pure profit.
Cost Comparisons: Drywall vs. Temporary Containment Solutions
STARC Systems manufactures reusable and durable temporary walls that install faster than drywall, are more durable than polycarbonate, and are flexible enough to handle any configuration. Although the initial purchase costs may be higher, the return happens fast.
For example, let's say you are doing a 5-phase project, and each phase requires 100 linear feet of temporary containment. Assuming costs of $169 per linear foot for drywall, $479 per linear foot for STARC's sound attenuating Real WallTM, and $279 per linear foot for our lighter-weight alternative, LiteBarrierTM, the drywall would cost you approximately $84,500. Compare that to just $49,400 for RealWall or $29,400 for LiteBarrier.
The savings are even bigger if you need to do drywall with soffits, which averages about $585 per linear foot. STARC's FireblockWallTM with Cap costs $867 per linear foot. Five jobs of 100-foot drywall with soffits can average $292,500, while the reusable FireblockWall system would cost $90,900 — a savings of $200,000 after just five uses.
And that's just the beginning. Some customers report using these temporary containment systems for hundreds of installations, magnifying the savings significantly.
Side-by-Side Comparison: Drywall vs. Temporary Containment Solutions
Reusable, modular temporary containment solutions provide several clear advantages.
Drywall can only be used once. It's messy to build and tear down and often noisy and disruptive as well. It produces significant amounts of dust that can be harmful to workers or occupants. It's also not particularly environmentally friendly. About three-quarters of drywall ends up in landfills, which can leach dangerous sulfates into the groundwater as it decomposes.
High-quality temporary containment systems can be used over and over again. Assembly and disassembly are fast, easy, clean, and less disruptive. In STARC's case, our systems provide superior noise attenuation, and there's no waste or worry about environmental hazards. Our systems also exceed ICRA Class IV requirements for dust containment and infection control, and our Airborne Infection Isolation Rooms can include reusable walls and doors with negative air capabilities for additional control.
To learn more about STARC Systems, download our Product Catalog or get in touch with us online to discuss your needs or request a quote.
Interested in More Information on STARC Systems?