When the Navy Hospital ship Comfort docked in New York City at the end of March, and an emergency field hospital was set up in Central Park, it was a clear indication that hospitals were going to face the need for significant changes to their facilities to address a surge in COVID-19 cases while maintaining standards and volume of non-COVID patient care. As early as April 6th, the Army Corps of Engineers were instructed to set up over 750 Alternative Care Sites (ACS) in a federal response to the coronavirus in support of the states with the majority of hospitals reaching their peak in mid-April.
The challenge hospitals face is not only adding more beds and ventilators; it is also managing infection control protocols, isolating infected patients, controlling airways and ventilation to avoid cross-contamination, safe storage areas for equipment, and staging nurses' stations in safe areas away from patient treatment areas.
Alternate Care Site Protocols
As outlined in the recently updated CDC infection control guidelines, protocols for Infection Prevention and Control considerations for Alternate Care Sites include:
Establishing alternate care sites that will help accommodate the surge in response to COVID-19 patients and/or to free up ICU capacity for non-COVID-19 patients.
Since care will be provided in a non-traditional environment, it is critical to ensure these facilities can support the implementation of recommended infection prevention and control practices including negative air pressure in patient isolation rooms.
Also included are Physical Infrastructure Guidelines that advise on the layout of facilities, patient care areas, triage, individual patient rooms, air conditioning and heating, spacing between beds, floors and surface areas, and visitor access.
How are Alternate Care Sites Established?
According to the Federal Healthcare Resilience Task Force, the necessary steps to begin the lifecycle of an ACS begins with identification and establishment of the site by federal, state, or local personnel in conjunction with the state public health and medical authorities over 48 to 72 hours. Once a site is established by federal and state medical authorities, construction can be supplemented by contractors to work with an onsite team.
Within the different ACS models, there are a variety of healthcare concepts to select from based on building availability and the desired level of care.
Non-Acute Care ACS Model: General, low‐level care for mildly to moderately symptomatic COVID‐19 patients.
Hospital Care ACS Model: Mid-level care for moderately symptomatic COVID-19 patients.
Acute Care ACS Model: Higher acuity care for COVID‐19 patients
The chart below outlines which ACS model would best meet the needs of your community.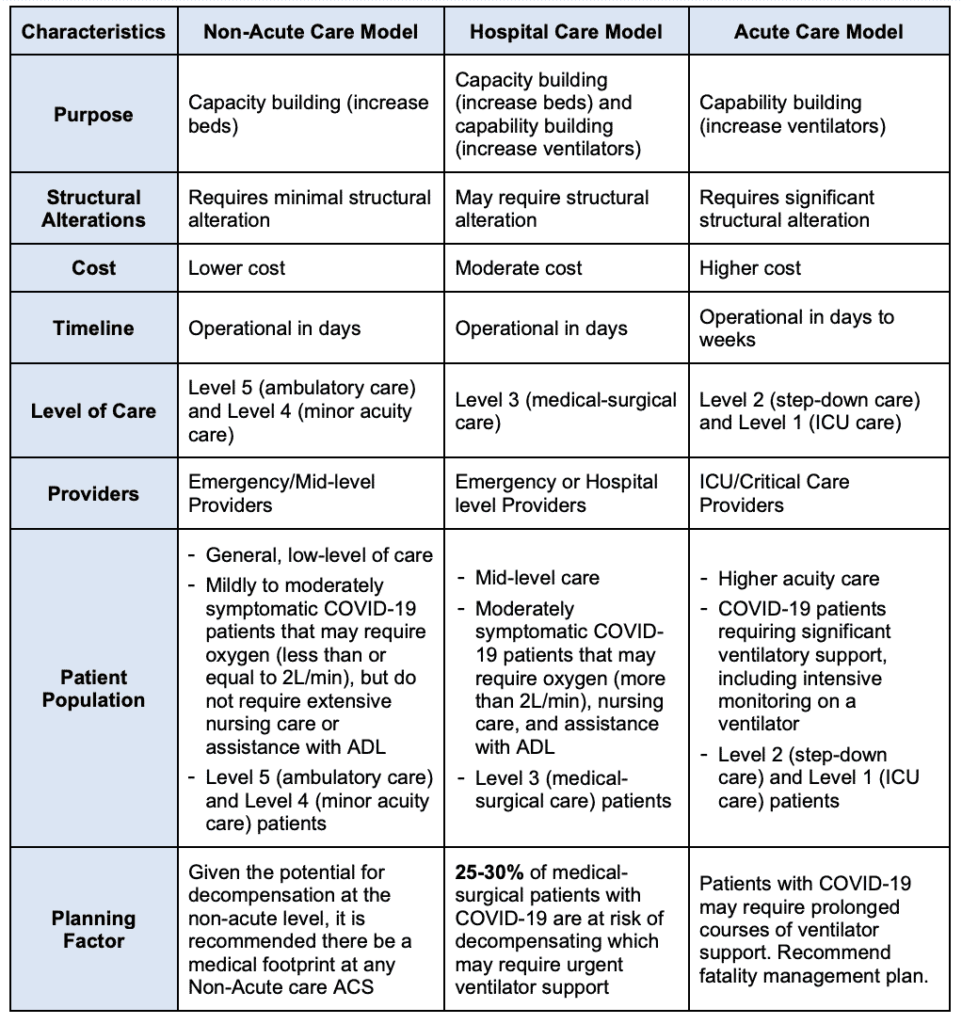 Other ACS Models
Other potential concepts include hotel-to-healthcare concept, arena-to-healthcare concept, and closed hospital-to-healthcare concept.
Without the time to build entire infrastructures, the conversion of hotels and arenas into treatment wards has been the fastest option in the expansion to provide care. An article in Fast Company reported that, to date, the USACE and 15,000 of their workers have assessed more than 820 structures, about half of which were arenas and half hotels. The majority of properties that were approved are arenas.
In Massachusetts, Gov. Charlie Baker said there are plans to convert the Boston Convention and Exhibition Center into the second coronavirus field hospital in Massachusetts. The 2.1 million-square-feet facility will house 500 hospital beds for homeless adults who have tested positive for COVID-19. By April 21, 290 patients had been treated in the facility.
The convention center in Worcester, Mass., is being converted into a 250-bed field hospital. "This will primarily be used for low-acuity patients that just need a little bit of oxygen, IV therapy," said Dr. Eric Dickson of UMass Memorial Health Care.
Rapid Deployment for ACS Negative Pressure Rooms
STARC's two systems can be quickly deployed as effective instant isolation solutions used to eliminate the spread of COVID-19 by creating instant negative pressure isolation anterooms, free-standing multi-room pods or for hallway isolation and airborne infection isolation rooms (AIIRs). STARC Systems' isolation rooms exceed ICRA Class IV and ASTM E-84 requirements and allow healthcare facilities to easily install and reconfigure panels to help stop the spread of infection. A best practice for pandemic preparedness is a solution that can expand and contract as your patient load does.
Interested in More Information on STARC Systems?