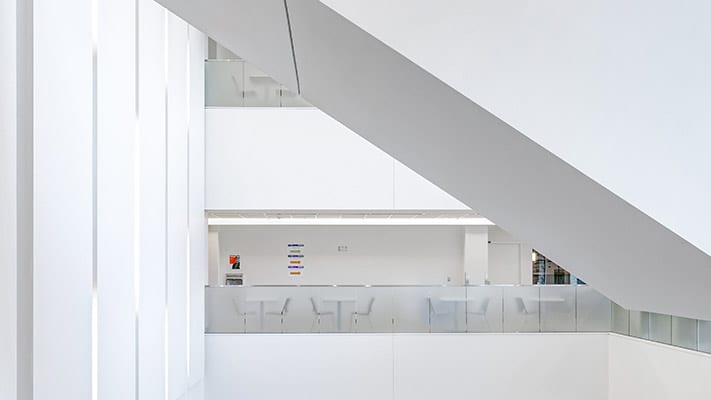 Temporary sustainable wall systems in healthcare facilities are designed to meet the unique challenges posed by construction in patient occupied environments. As populations grow and expand, construction projects in and around healthcare facilities is an ever-increasing necessity. To meet demands, hospitals and healthcare centers are constantly undergoing expansion, renovation, and remodeling.
The challenge for directors of operations and facility managers at healthcare centers and hospitals is how to manage construction areas within a healthcare environment without disruption to healthcare services. The answer lies in effective containment of the areas under construction. When such containment challenges arise, STARC's reusable, sustainable wall systems can provide a solution that greatly aids containing the dust, debris, and noise created in construction work zones. Exceeding ICRA Class IV protocols, STARC temporary containment walls offer a good example of how hospitals in today's environment can embrace more sustainable practices when undergoing construction. The STARC containment solution presents an attractive, cost-effective, sustainable alternative to traditional temporary walls consisting of drywall, plastic sheets, and other environmentally harmful materials.
Why Choose STARC Over Other Containment Methods?
Reasons to Use STARC Walls Project After Project
One of the main features that set STARC Systems temporary walls apart from the competition is that the walls are the most durable on the market and can be used time and again. The reusable containment system is not only environmentally friendly, but the walls are a sustainable investment. Rather than disposing of drywall and plastic sheets in the local landfill at the end of each project, STARC temporary walls can be easily cleaned and stored for the next project.
Sustainable, Waste-Reducing Walls
Sustainable STARC containment systems lessen the environmental impact that many construction projects carry. The reusable walls dramatically reduce waste produced on construction sites and, in particular, by limiting the use of drywall, which is an environmental hazard. Nearly three-quarters of all drywall eventually makes its way to landfills and, once disposed of, as it decomposes the waste has a significant negative impact on the environment. That smelly odor it produces when rotting releases potentially lethal hydrogen sulfide gas into the atmosphere. These dangerous sulfates can also leach into the groundwater supply, polluting valuable water resources.
Get a Better ROI
Limiting the use of drywall is more than beneficial for the environment. It also has no return on investment (ROI). It's a short term solution, not a sustainable investment. Building containment walls with drywall that's earmarked for the local landfill is wasted dollars in time, material and labor, and environmentally reckless. STARC Systems' reusable temporary containment walls offer contractors and facility managers the elimination of ongoing costs of drywall for each project that will add up to significant cost savings over time and a high ROI. STARC temporary wall systems can be used on hundreds of jobs over many years and typically pay for themselves after just 3-5 uses, virtually eliminating future containment costs.
Exceeds ICRA Class IV Requirements
Sustainable walls systems by STARC are safe for healthcare centers and hospitals, too. The STARC system exceeds ICRA (Infection Control Risk Assessment) Class IV requirements, crucial for healthcare-related construction projects. In construction and renovation projects ongoing at patient occupied healthcare facilities, meeting ICRA protocols ensure that environmental control measures are in place to limit and prevent HAIs (Healthcare Acquired Infections) from occurring.
STARC's innovative containment system establishes an environmental control measure designed to aid in reducing infection incidents that may be caused by dust and debris from work zones. The airtight panels provide negative pressure isolation and prevent the circulation of dust, particulates and airborne pathogens that could reach vulnerable patients during renovation projects or additions.
Increase Patient Satisfaction
Finally, a quiet care environment can boost patient satisfaction and experiences—important to patient surveys that influence reimbursements for hospitals. STARC's sound attenuating, sustainable walls can eliminate up to 50% of renovation noise, which in times of renovation and remodeling can help to create a positive patient experience.
STARC's modular sustainable wall systems are the ideal investment for healthcare facilities. The clean, visually appealing, reusable walls offer protection for patients, medical personnel, visitors, and staff in hospitals and healthcare facilities from dust, debris, and airborne microparticles associated with construction projects. STARC sustainable wall systems are not only an environmentally friendly, sustainable investment, but a cost-effective investment as well.
Interested in More Information on STARC Systems?