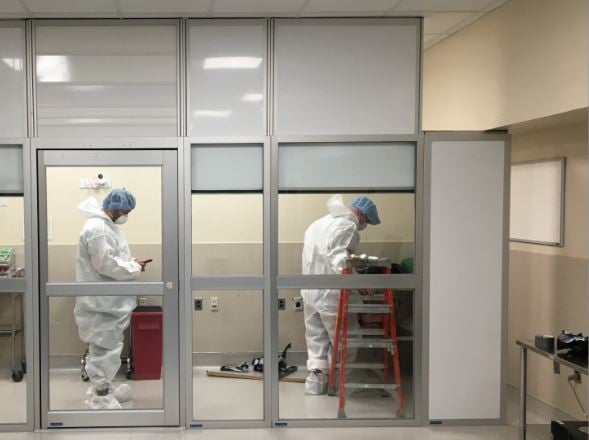 For an industry that strives to be on-time and under-budget, it's difficult to plan and execute in a time of instability. All over the country and across professions we're seeing layoffs, furloughs, new work protocols, office spaces downsizing due to remote working, fewer projects, stretched supply chains, uncertain start dates, canceled jobs, and fewer jobs in backlog due to COVID-19.
Project managers and leaders in the construction industry have a strong ability to forecast unseen obstacles, but no one could have predicted the crisis the country has seen this year. It's been nearly six months since COVID-19 hit the U.S. and now each state is facing the sheer magnitude of reopening plans for their economies. With a projected second wave of the disease to come during the cold and flu season, there's also the potential to halt projects currently in the works.
At STARC Systems, we wanted to investigate the issues customers are facing while working during a pandemic and how their companies are moving the industry into the future.
1. New Work Protocols
To return to work safely, active projects must be adapted to both their own and their customers' new protocols. Guidelines from OSHA require new social distancing measures to be followed. While these measures are necessary, companies are facing budget pressure and time delays due to increased sanitation on job sites, installing additional washing stations, limiting the number of employees in a particular area, not sharing tools, equipment or PPE, frequently cleaning high-touch surfaces, no carpooling and, more remote work.
Atul Khanzode, Management Committee Member for DPR Construction:
"The crisis required us to take a closer look at how we keep job sites operational while ensuring safe physical distancing for workers and project site staff. We collaborated with trade workers and customers to see how many shifts we can work, how we can plan work to ensure distancing, what sort of PPE (personal protective equipment) we need when distancing isn't possible, what sort of pre-screening protocols we need, and more. The result has been the ability to keep projects online and workers on the job. We're very proud of the attention trade workers place on safety every day. For other site staff, leveraging technology to determine who needs to be on site, and at what times, has been a key consideration. Digital and virtual collaboration tools have become vital to ensure we have seamless operations."
The fact is that the construction industry has been drastically changed by both public health and economic effects of COVID-19 and these new protocols will be the new normal. One way to add flexibility to new and changing safety protocols is by investing in modular or prefabricated construction, a sector within the industry that is slated to grow significantly over the next three years. Temporary containment solutions allow you to quickly modify containment deployment in response to changing work protocols.
2. Unpredictability Rules
Modular temporary containment walls not only ensure flexibility to new pandemic safety protocols they allow crews to move quickly when jobs re-start or get approved to move forward.
Not only is the virus the cause of uncertainty, we are just months away from a historical general election. Due to potential policy changes, updated federal spending budgets, material costs, and more, election years tend to leave balls in the air until voting day is over.
Unfortunately, there's not an easy solution to meet the challenges the industry is facing but there are ways for construction companies to protect their bottom line, such as keeping a long-term perspective in mind. Now is the time to make investments in your company that will save you money in the long run (e.g. time and labor) and increase customer satisfaction.
3 Ways Modular Containment Can Help Improve Control of Your Business
Durable and Reliable
Durable reusable temporary modular walls means you can have containment at a critical point of need. There will be no need to rely on an unpredictable supply chain for drywall. While working on the Fresenius Medical Center, John Noone, Vice President of Field Operations at J. Calnan & Associates, said,
"We think the product--well, we don't think, we know--it's far superior than putting up plastic sheeting, zippers and stuff like that to separate areas from occupied renovation."
Fast Installation
Prefabricated temporary walls allow for fast easy deployment with much less labor costs required. STARC's lift-and-drop system is quick, easy, and disruption-free to install. Two workers using RealWall™ can seal off an area in minutes, install 100' feet of temporary containment wall in an hour and one person can do the same with LiteBarrier™.
Can Be Used Again and Again
Unlimited flexibility to create dozens of temporary containment solutions with no construction required. Walls where you need them, when you need them (e.g. EDs, ICUs, PACUs, Hallways, Anterooms, etc.).
3. A More Measured Approach
Despite increased levels of pandemic cases, there was, ironically, a more calculated response to activities in June and July. The immediate sense of urgency was a driving force in the healthcare industry response in March - doing something was better than doing nothing.
Now, despite the broader geographic scope of the pandemic, a combination of creativity and calculated responses are reshaping how hospital facilities managers consider their current built environment and how to repurpose existing spaces. This potentially may lead to future renovation and design considerations for healthcare facilities across the nation. For instance, access to instant negative air containment at the flip of a switch.
Assistant Director for Major Hospital Projects at SUNY, Alvin Dunaisky, said his challenge while working in occupied healthcare construction was "rethinking existing facilities with an eye towards reducing virus spread." He emphasized that knowledge about COVID-19 and how it spreads is changing daily. As a result, he looked back at past protocols and reevaluated how his facility has previously been doing things. His team solved the problems they were facing with STARC temporary walls because they are the ideal solution for infection control during the pandemic or containment during patient occupied renovation.
In the future, contractors will need to rethink how existing spaces can be repurposed to expand infection isolation capacity while taking into account permanent versus temporary considerations with an eye towards maintaining flexibility.
4. Pockets of Opportunity
We can expect that healthcare projects will remain a priority to be able to protect against the pandemic. With so many people working from home for the foreseeable future though, some industries (airports, commercial office space, higher education) are electing to begin or accelerate projects.
Landon Booth from Old Dominion Abatement & Demolition:
"With all the schools shutting down everyone wants to accelerate their schedules. They have this opportunity where people are out of the space, now they want to do the renovations because no one's going to be there. Now they can take large areas at a time and go full speed and get it done, improve scheduling, keep moving."
In other cases, contractors are providing value by consulting to create isolation in the facilities they know. With worksite restrictions, new protocols in place, and the economy starting to open up, many business owners are still not sure if they want to continue with their planned renovation and construction projects. Should you push forward, or should you hold off until the COVID-19 risk subsides? Business owners are looking for contractors to help guide them in the decision-making process and working them through the pros and cons.
5. Financial Pressures
With still fewer projects in the pipeline than before the pandemic, project pauses, and uncertainty-- the competition and revenue pressure is increasing. Companies need to imagine new ways to establish competitive advantages. One way they are doing so is with reusable modular containment walls.
Temporary containment is typically a small part of a project budget; however, contractors who paid off reusable temporary containment generate a permanent revenue stream on future jobs.
Jerry Baker, Executive Director of Construction W.E. Bowman Construction:
"our team considered our return on investment with STARC and it's paid off. You really want a product that has proven endurance when you work in healthcare. We know our STARC panels will last us for a number of years and we can use STARC on hundreds of projects."
6. More Available Labor
Even though critical infrastructure workers have been deemed essential by the government during the pandemic, the industry has hardly escaped unscathed. Over the year, the unemployment rate has grown from 3% to the double digits - construction included. This challenge could work in your company or projects' favor.
With the economy opening back up when a project is approved, there is more opportunity to control project timelines and manage critical dependencies. Sub-contractors' are no longer confined to their tight schedules: if you need a plumber on the job quickly, it's more likely to happen on your timeline versus theirs.
Taking Advantage of the New Normal
While the duration of the crisis and the exact shape of the economy's recovery is unclear, what we do know is that it's temporary. We are seeing now more than ever that, in a fast-changing and strained situation, an adaptive approach is required. Whether your project is in a healthcare facility or a public transportation environment, STARC's infection isolation solutions can give your company a competitive advantage with flexible options.
Interested in More Information on STARC Systems?