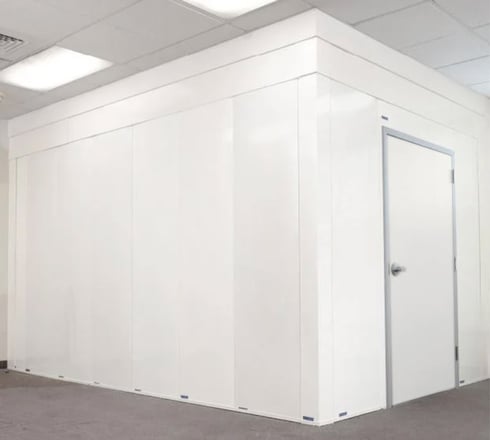 Occupied renovations and construction projects can invite wasteful, messy, hazardous, and unattractive temporary solutions involving drywall or polycarbonate. Allow this transitional time to be as simplified as possible with STARC Systems. For all temporary containment systems used in highly sensitive environments, know STARC Sytems as a superior solution for safety, efficiency, and attractive durability. Not only do we take pride in our system's professional appearance, but our goal is also to maintain the safest and most efficient solutions on the market. Most impressive is our rating for fire and smoke spread.
What are Flame Spread Ratings?
The ASTM E84 test assesses flame spread ratings, the standard method for determining burning characteristics of building materials by observing flame spread within a sample. The speed at which flames progress throughout an interior surface is assessed along with the amount of smoke a burning material emits.
The FSI (flame spread index) and SDI (smoke-developed index) components observed in the sample are used to determine ratings.
Ratings of classes A through C are required by the International Building Code and National Fire Protection Agency for wall panels and ceilings.
Class A indicates an FSI of 0-25. Construction projects in healthcare facilities almost always require a class A rating.
Temporary Construction Walls with a Class A Fire Rating
ASTM E84 gives our RealWall™, LiteBarrier™, and FireBlockWall™ containment systems a Class A rating. These wall systems and modular ceilings have the lowest fire spread rate and minimal smoke production in case of a fire, allowing for the safest environment. Our products are tested entirely, earning the most stringent ratings.
The First and Only Reusable One-Hour Fire-Rated System
The FireBlock system is the first and only reusable one-hour fire-rated modular containment system on the market, allowing contractors to maintain safety standards while working efficiently. To determine if one-hour fire rates construction barriers are required, refer to NFPA references. Compliant sprinkler systems and their ability to be used during construction and separation of occupied and construction spaces are considered. Many codes must be reviewed for your state or local jurisdiction.
The FireBlockWall system is ideal in that it stops fires and aids in halting the spread of hazardous construction dust and debris. The panels in this system are negative air and air monitoring panels creating a safe environment of panels and doors as soon as the quick installation is completed.
A Holistic Approach to Safety
In addition to superior flame spread ratings, we aim to raise the bar in safety with our temporary containment systems. This includes noise reduction, durability, attractiveness, disinfecting capabilities, lightweight and easy setup component, ecological reusable panels, overall cost-effectiveness, and a design that exceeds infection control requirements. See a full and detailed list of advantages here.
Interested in More Information on STARC Systems?