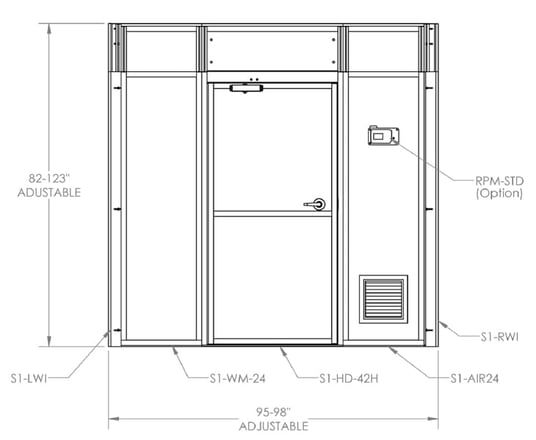 When it comes to innovation in temporary containment and barrier systems, the industry leader is STARC Systems. Contractors, managers, architects, and engineers and the like, turn to STARC Systems time and again to provide the most effective, high-performance containment walls available anywhere.
Infection Prevention
Construction or renovation projects at any commercial, industrial or institutional facility will find that STARC's containment system meets and exceeds the Infection Control Risk Assessment (ICRA) protocols up to and exceeding Class IV requirements—the highest risk group assessment classification.
STARC's modular wall systems are designed to protect employees in any office or business environment, and patients, medical personnel, visitors, and staff in hospitals and healthcare facilities from dust, debris, and microparticles. STARC's also supports high levels of negative pressure isolation. The impermeable, airtight walls prevent any circulation of airborne fungal spores or hospital-acquired infections (HAI) that could occur during construction and renovation projects.
Easy to Use ICRA Construction Barriers
Nevertheless, one of the more common temporary containment situations our customers face requires creating temporary ICRA construction barriers to cover an 8' corridor. The modular STARC System can cover this 8' span while providing a solid seal against permanent walls.
Each modular wall panel consists of aluminum-fronted, galvanized steel-backed units. Assembled, they create an anti-microbial, sound attenuated, sustainable, airtight modular wall, which can be rapidly deployed and installed at a moment's notice to provide the perfect temporary corridor.
The panels are telescopic, and along the top and bottom of each panel, foam gaskets are designed to adhere to any uneven plane or surface on the floor or ceiling, which subsequently seals off the space from any dust, debris, or microparticles. Inter-panel dual seals provide the same airtight barrier between the upper and lower panels, and an integrated tongue and groove system provides an airtight seal along the vertical frame.
STARC System's 8' corridor and ICRA barrier kit is easy to use and consists of:
1 x 42" Hinged Door (or 42" panel)
2 x 24" Panels (with the option of one being a negative air panel)
2 x Wall Interfaces (one Right Wall Interface and one Left Wall Interface)
Because not every "8' corridor" is exactly 8' long, the wall interfaces each can be extended out horizontally over an approximate 2" range. This adaptability helps customers cover the "final mile" of containment, so to speak, in a number of situations.
Finally, since corridors can be erected, adapted, or redeployed easily, they are ideal for any unexpected circumstances that may arise once the project is underway. For example, management may not have anticipated how much of an impediment barrier can impose in the functional day-to-day operational flow within any office or healthcare facility until after the containment system is erected. Installing a corridor may alleviate the impediment to meet the needs of staff and other foot traffic.
Whatever your containment needs, it just takes a few components to provide a solid and aesthetically-appealing 8' barrier to contain dust and control access. But what if you need to cover a 12' corridor? We can help with that, too. Ask us how.
Interested in More Information on STARC Systems?