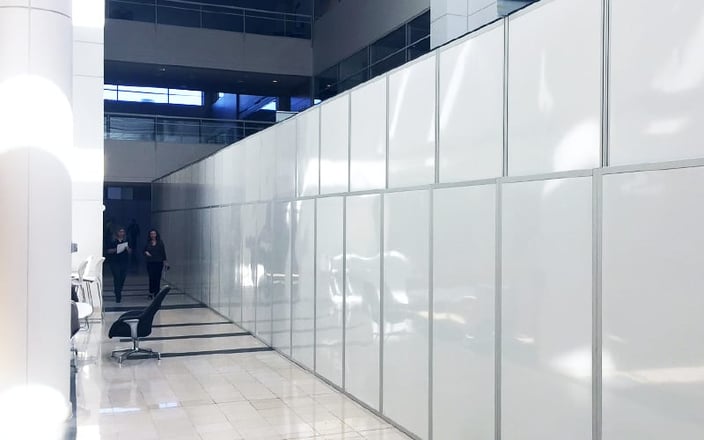 With worldwide prefabricated construction projected to grow to over $200 billion by 2030, demand for building components is on the rise. These components include prefabricated modular walls, which contractors are leveraging to speed on-site builds, generate cost savings, usher in safety improvements, and boost owner satisfaction.
When used as a temporary solution, prefabricated modular wall systems are installed primarily as barriers to protect building occupants, staff and visitors from dangerous construction dust, debris and noise. Over the past few years, the growing adoption of wall systems like STARC's has been credited with improving safety protocols and lowering infection risks common to healthcare renovations.
A Crowded Field
But with dozens of manufacturers coming to market over the past seven to 15 years – nearly half of which are early or mid-stage startups – the range of solutions available for either temporary or permanent use can be a bit overwhelming.
To help you better navigate your options, we'll walk you through some key considerations, including five questions you should be able to answer before settling on a solution.
Question #1: How long will your prefabricated walls be in place during (and after) construction?

Your installation timeframe matters because it speaks directly to the type of wall system you should consider.
If your project calls for being able to move frequently across project phases, for example, you'll need a system specifically engineered for temporary containment. One that emphasizes ease of use and reconfiguration.
If your walls will be in place for six months or more, however, a semi-permanent solution will likely suffice. With semi-permanent solutions, ease of reconfiguration remains a consideration, but in certain cases, you may wish to rent the wall system instead of buying it outright.
Of course, if your prefabricated walls will be part of the finished build, you'll probably want a solution that's highly customized for the space and finished design. Demountable walls are typically custom for a permanent space while offering limited flexibility for future reconfiguration.
Question #2: How sensitive are surrounding areas, occupants or production processes to construction dust and debris?
Air quality and sensitivity of the project site are key considerations when determining which prefabricated modular wall system to choose. With new construction, for example, dust may just need to be contained to the work area and cleaned up once the project is complete. It's a nuisance more than a priority, perhaps calling for minimizing waste and leveraging recycled materials.
Other settings require greater sensitivity. Data centers, for example, typically contain technologies that must meet clean room standards. Any wall system selected would therefore need to include anti-dust and/or antimicrobial capabilities, as well as ISO/seal ratings, integrated airflow and HEPA capabilities.
Then there are the "highly sensitive' environments, such as hospitals and certain manufacturing facilities. Good examples include facilities that process food, pharmaceuticals, or semiconductor chips. Here, the focus is on patient or occupant safety, so you want a prefabricated modular wall system that prioritizes anti-dust and antimicrobial capabilities, negative air ratings, ICRA ratings, fire/ASTM ratings, and cleanability.
The most effective temporary walls in highly sensitive areas feature advanced air management and airflow designs. Depending on your need, these may include negative and positive pressure requirements, specialized HVAC, or specialized equipment to minimize the spread of dust.
Determining your installation timeframe and identifying your air quality and sensitivity requirements are critical to choosing the best prefabricated modular wall system for your project.
Next, we'll address three more questions aimed at helping ensure you choose the right wall system for your specific project needs. To read Part 2 of this article, click here.
Interested in More Information on STARC Systems?