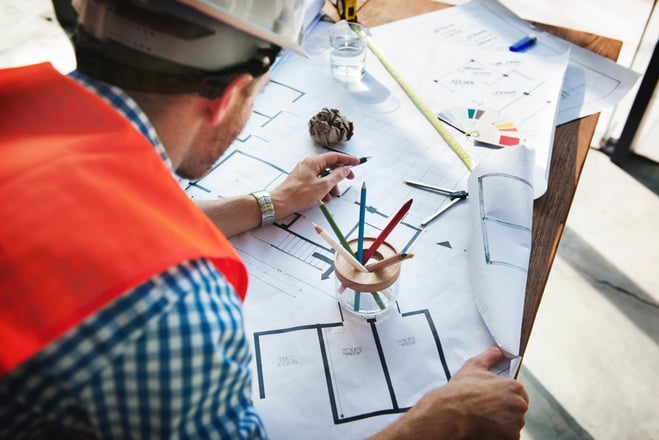 When hospital construction companies or healthcare construction companies undertake a necessary renovation, remodeling, repairing, or expansion of a facility, the disruption to patient services must be negligible, if non-existent, during the construction period.
Keeping any worksite disruption-free can be a challenge for any contractor, but especially for those in hospital construction or healthcare construction.
There is a big difference between construction performed at retail or commercial worksites and construction work at hospitals, where patient care is literally a matter of survival. Healthcare-associated infections (HAI) caused by dust and mold spores released during hospital construction claims thousands of lives each year. Therefore, it's imperative that contractors have an airtight barrier erected during any building, renovation or construction project at hospitals or healthcare centers.
Why Use ICRA Barriers for Hospital Construction?
All hospital and healthcare construction companies need to be aware of and ensure that ICRA Class IV standards are in place and are met during all phases of a project. Infection Control Risk Assessment (ICRA) for the worksite must be submitted by contractors as part of their bid. ICRA Class IV standards are mandated by the CDC for any construction project at a healthcare facility. Contractors, their crews, and those involved in the trades must have knowledge and understanding of the standard. Essentially, Class IV standards mandate that all dust and debris generated by the construction in the work area must be contained.
Containment of dust and debris released during construction begins with erecting a temporary containment wall to create an effective barrier. When traditional renovation or remodeling projects take place at a business, shop, or store, work crews erect a temporary wall to enclose the work area, generally consisting of plastic sheeting and drywall. These barriers are designed more to keep people out than keeping dust and debris in.
See How Much You Can Save with STARC Systems
The True Costs of Using Drywall For Construction Containment
Drywall and plastic sheeting do not make an effective barrier between a work area and a healthcare facility. Airtight STARC temporary wall containment systems are the ideal choice for contractors who are involved in hospital and healthcare facility renovations, repairs or remodeling projects. Here's why:
In the long run, repeatedly putting up drywall and then removing it, project after the project, presents many problems for contractors. Temporary barrier walls constructed with drywall are a waste of resources, costly, disruptive, presents environmental issues and can compromise human health. Drywall is plasterboard made from pulverized gypsum mixed with additives and bonding agents such as boric acid, plasticizers, potassium sulfate, starch, silica, wax, and then encompassed or faced in mold-resistant fiberglass matting.
Airborne drywall dust poses health risks. The risks are twofold. The first one is more direct as pathogens and mold can attach themselves to dust particles which then travel outside of containment areas and can adversely affect patients with compromised immune systems. While the second risk is broader, it is not any less important. Most drywall is non-biodegradable because of the toxic additives and bonding agents found in plasticizers, and mildew and fire retardants. The material can rarely be re-used and its disposal is problematic. Therefore, roughly half the construction industry's waste stream comes from low-value drywall and the toxic waste that it creates.
Erecting drywall barriers in hospitals is noisy and disruptive to patients and staff, as well. First, plastic sheets need to be hung just to create a barrier to contain the dust and debris while building another barrier. It requires a day or two of labor sawing, framing, screwing, mudding, and taping to make the walls. Then, when the job is completed the process is reversed. That takes another day or two of labor to remove and clean up the materials. All the while dust and debris accumulate and disperse, invariably seeping beyond the containment area into occupied spaces frequented by patients and staff.
How Healthcare Construction Companies, Facility Managers, and Patients Benefit from Temporary Dust Containment
Hospital and healthcare managers and administrators coordinating construction projects at their facilities will discuss with contractors the implementation of their ICRA plan. All hospitals are subjected to the HCAHPS (Hospital Consumer Assessment of Healthcare Providers and Systems) survey, which is a national, standardized, publicly reported survey of patients' perspectives of hospital care. It is an incentive-based program that reflects the quality of care of a hospital's personnel, processes, and physical environment. Excellent survey results actually boost Medicare reimbursements that help to keep hospitals financially sound.
The financial incentive aside, the HCAHPS Survey contains 21 patient perspectives regarding their care that encompass nine key areas during their stay at the hospital. The cleanliness of the hospital environment and the quietness of the hospital environment can directly impact the patient's overall satisfaction.
STARC Systems' reusable modular temporary containment walls have a sound attenuating foam core that reduces renovation noise by up to 50%, provide a real wall appearance, are extremely durable and backed by an industry best 3-year warranty. The walls go up quickly and quietly and 100' of the wall can be installed in 1 hour. STARC Systems temporary containment walls exceed ICRA Class IV requirements and prevent dust, debris, and infection from entering occupied spaces within healthcare facilities during a renovation.
Interested in More Information on STARC Systems?