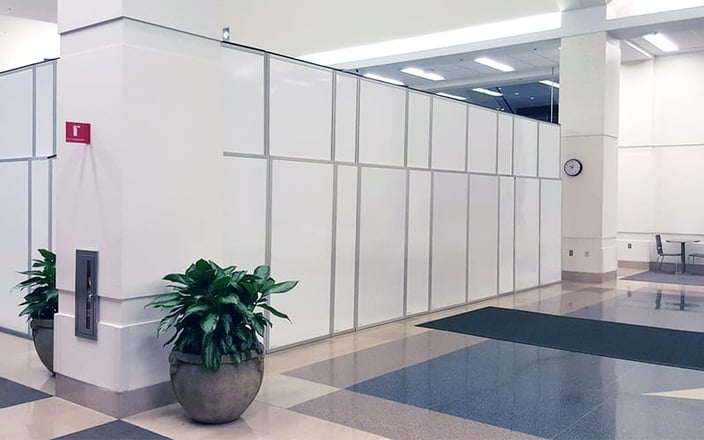 Temporary modular walls have evolved significantly over the past few years, proving their value as a reliable alternative to traditional solutions, such as drywall or plastic sheeting. But determining when they provide a viable option depends on your intended purpose. To help clear up confusion, here's a quick look at what modular walls bring to your project – and when it makes sense to use them.
Different Modular Wall Options
The first thing you'll notice when considering modular walls are the variety of types available. From temporary wall systems and partitions to dust barriers to moveable (or portable) wall systems and room dividers, it seems there's no end to what falls under the banner of "modular." That's why it's so important to know how you'll use it and how long you'll need it to last.
Residential or Commercial Barriers?
In most cases, modular walls intended for residential use offer a limited range of functionality. These solutions are designed for portability and easy set-up.
Think of a room divider, for example. Whether a collapsible, accordion-style partition used to cordon off a sub-section of a larger space or a temporary wall intended to separate two areas of a room for privacy purposes, this type of modular wall prioritizes simplicity. It's meant to serve a specific use case and is not intended to withstand hard use or frequent reconfiguration. There are many options available in this category that would likely meet your need.
However, regarding commercial use, the feature sets defining temporary modular walls become much more sophisticated and critical to the task at hand.
Do You Need Dividers or Containment?
For starters, are you considering a modular wall to divide a space or contain a work area? If you're simply dividing a space, you may be able to get away with a basic solution, such as zippered walls. But it depends: is security a consideration? What about aesthetics? Are you concerned about noise from an adjacent area? Will the wall remain in place for a prolonged period, or do you just need it for a few weeks? What about the removal of waste? Is sustainability a consideration?
If security, aesthetics, sound attenuation and sustainability matter, zippered walls or plastic sheeting won't cut it. Neither will cheaply made polycarbonate panels.
Until recently, you may have thrown your hands in the air and opted for the traditional go-to solution: drywall. After all, it's sturdy, aesthetically pleasing, and simple enough to build. But thanks to inflation, supply chain issues and skilled labor shortages -- as well as growing awareness and pressures surrounding sustainability––more contractors are taking a closer look at high-quality modular wall systems, especially for shorter-term projects and temporary containment.
Considering Modular Wall Systems
Of course, most commercial projects call for more than simply installing a wall to temporarily divide a space. Today's leading modular wall systems reflect this reality, addressing a range of complex requirements with innovative designs and advanced feature sets.
The healthcare industry provides a great example. To dominate in this market, leading temporary containment manufacturers are engineering modular wall systems that balance the contractor's time and cost against the safety of patients, caregivers, and staff with flexible solutions that enable containment around a myriad of infrastructure designs.
Does your project require heightened safety measures and awareness? For example, if containing construction dust (or dangerous pathogens) is a concern, you'll want temporary containment that meets or exceeds ICRA Class IV requirements. Similarly, if your project requires a one-hour fire-rated wall, you'll want a solution that exceeds ASTM E119 and ASTM E84 requirements and, ideally, meets the latest ICRA Class V standard.
Whether intended for occupied healthcare renovations or a commercial office project, the best modular wall solutions provide these capabilities without compromising on aesthetics, durability, or sustainability – benefits that deliver significant competitive advantages to project managers, construction superintendents, contractors and facilities managers.
Likewise, systems that deliver a high degree of reusability – designed to support hundreds of jobs over a period of years – can add to project profitability over the long term, making temporary modular walls an excellent replacement for traditional solutions and a strategic investment capable of impacting your bottom line. For more information on temporary modular wall systems, contact us.
Interested in More Information on STARC Systems?