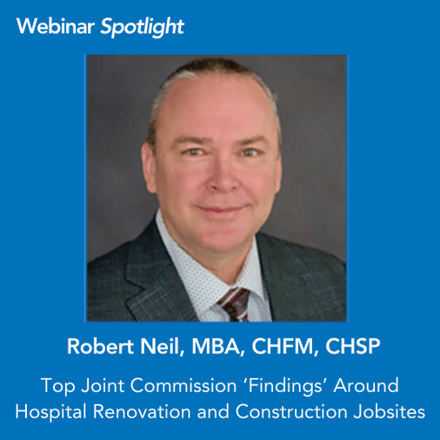 In late September, we hosted a webinar called Top Joint Commission 'Findings' Around Hospital Renovation and Construction Jobsites. This well attended live event featured our special guest, Robert Neil, MBA, CHFM, CHSP, Principal Consultant at Joint Commission Resources (JCR), as well as STARC's own Bruce Bickford, Vice President of Product Development.
As the consulting arm of The Joint Commission (TJC), JCR's mission is to continuously improve the safety and quality of healthcare. Rob's portion of the presentation shed light on who TJC is and clarified the organization's connection to CMS accreditation. He also weighed in on how accreditation and compliance impact reimbursement.
Construction Considerations

Most importantly, Rob discussed in-focus and challenging TJC programs for construction, which he grouped into three buckets: Inspection, Testing and Maintenance, Above Ceiling Management, and Construction and Renovation.

4 Key Takeaways
Rob's information is timely and relevant to our audience, so we're sharing his four key takeaways for facilities managers, project managers and others involved with hospital construction and renovation projects. Here they are:

Maintaining continuous compliance is key. Compliance isn't just about accreditation. The requirements are there to limit and eliminate risk to patients, risk of fire, and risk to the health and safety of all involved.
Joint Commission is there to monitor compliance on behalf of the Center for Medicare and Medicaid Services (CMS). Certified hospitals must be in 100% compliance with the Conditions of Participation (COPs). Non-compliance can result in fines and loss of certification for the participating hospital.
Hospitals must take the steps and measures necessary to ensure patients and staff are safe and that the appropriate level of planning has occurred. Infection Control Risk Assessments (ICRA), Pre-Construction Risk Assessments (PCRA) and Interim Life Safety Measures (ILSM) must be completed prior to work commencing and the requirements of each assessment must be implemented.
Joint Commission Surveyors are primarily focused on risk to the patient. Hospitals are expected to continue inspecting, testing and maintaining all installed devices. They are expected to maintain the integrity of rated barriers. Hospitals must also ensure dust, debris and noise generated are kept within the barriers of the construction project. Pressure differentials are key.
Additional Resources
We also want you to have access to two great, downloadable resources that Rob has made available, so be sure to hit the links below—and share this blog post with others you know who would benefit from this information.
TJC Hospital Accreditation Survey Activity Guide (July 2023)
JCR Healthcare Construction and Renovation Tracer
To learn how STARC simplifies project starts and transitions while enabling safety and compliance, click here.
Interested in More Information on STARC Systems?