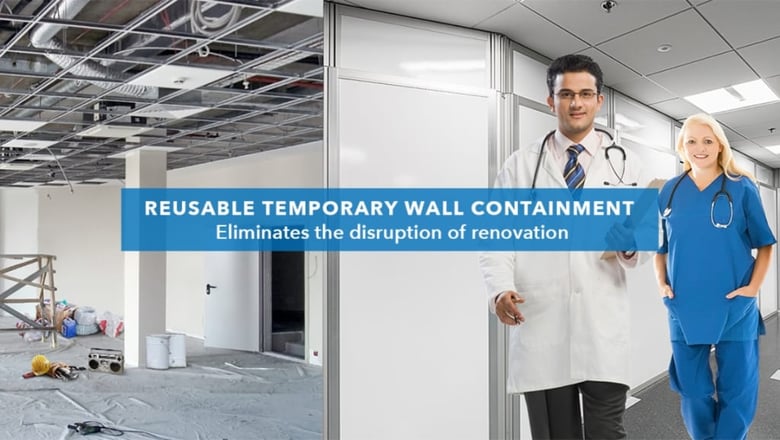 Brunswick, ME, SEPT. 10, 2018 - STARC Systems, Inc., a manufacturer of modular temporary wall containment systems, announces the launch of their new website with updated corporate branding.The new website offers visitors enhanced functionality and content, providing a richer user experience to explore STARC Systems' reusable temporary wall containment. The new site provides greater opportunity for visitors to interact with and engage with the STARC brand.
The site now showcases its well-known brand with effortless navigation, a broad scope of information and organic content. Updated professional photography shows off the simple, clean lines of the telescoping panels/doors and shows how seamlessly the system can integrate into the healthcare setting.
The website features a robust resource center that houses a variety of content including a weekly blog, case studies, white papers and articles. This new content serves to act as a point of reference for educating healthcare professionals and contractors on the importance of proper temporary containment, how to develop effective containment strategies, understand and evaluate temporary containment options and to stay up to date on trends in temporary containment.
Functional website enhancements include:
Widescreen photographic data that loads very quickly without pause
Intuitive navigation
Interactive infographics and imagery
Videos
The updated logo reflects the product itself. A modular set of panels and the color palette of blue and green speak to two main audiences; healthcare and construction.
"In conjunction with our dramatic growth, we are excited to launch our new website and branding. Customers now will have an easy intuitive way to understand what our product is, how it works, and why it is the best temporary containment solution for healthcare renovation." George Kiesewetter, VP/Marketing, STARC Systems.
The website was designed and created by Visible Logic of Portland Maine, a leading branding and marketing agency.
About STARC Systems
STARC Systems manufactures modular wall panels to reduce the amount of waste, dust, debris and time dedicated to temporary containment on sensitive or occupied job-sites. The company has designed the industry's most innovative, durable modular temporary containment system. With a management team with over 100 years of successful construction, engineering and business experience, STARC Systems is quickly becoming the industry's fastest-growing and successful temporary containment solution.
Media Relations Contact:
George Kiesewetter
VP/Marketing
STARC Systems
Office: 207-844-6179
Cell: 508-265-1500
gkiesewetter@starcsystems.com
Interested in More Information on STARC Systems?