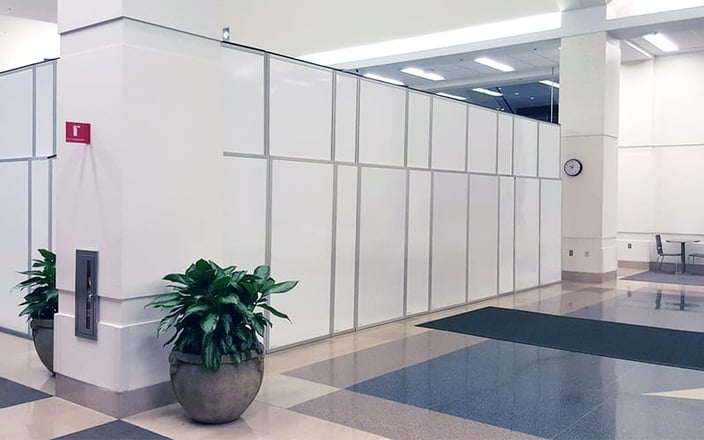 When hospitals erect temporary dust walls for renovation, their number one consideration is installing the most effective dust barrier to protect the health and wellness of patients, visitors, and staff. Hospital management, Infection Preventionists, Project Managers, Engineers, and Healthcare Contractors, are all stakeholders in the temporary containment decision and ideally look for temporary dust walls that exceed ICRA Class IV requirements, blend into the existing healthcare environment, are fast an easy to set up, and eliminates the disruption of renovation.
An Investment vs. an Expense
STARC's reusable RealWall temporary containment provides significant cost savings over time versus building drywall containment and rapid payback on the initial investment, usually after just 3-5 uses. Because the system is extremely durable and reusable, these temporary construction walls can be used on hundreds of jobs year after year virtually eliminating future temporary containment costs.
A great example of this is when the Executive Director of Construction at W.E. Bowman approached STARC Systems with a two-fold challenge. "With every new healthcare project, we would do the same thing, create temporary drywalls we would end up throwing in the dumpster. This provided no value to our company or our clients. We've spent a lot of money on those types of walls and they create their own problems. First, they take more time and money to construct. Second, we had to build a temporary plastic wall and create a negative air environment before could even start building a metal stud wall." This is what W.E. Bowman needed from a temporary containment product:
Their healthcare clients required that all temporary containment walls exceed ICRA Class IV requirements.
Cost-effective temporary dust barriers that could be used for multiple healthcare projects and continue to look good.
The STARC's RealWall temporary containment system met the client's needs and provided W.E. Bowman a competitive edge - temporary containment that reduced renovation noise by up to 50%, looked like a real wall, was fast and easy to install and was durable. The client continued, "We considered our return on investment with STARC and it's paid off. You really want a product that has proven endurance when you work in healthcare. We know our STARC panels will last us for a number of years and we can use STARC on hundreds of projects."
When you begin to factor in the numerous benefits of a STARC's RealWall containment system it's easy to understand why it is superior to traditional drywall containment.
Why Choose STARC Over Other Containment Methods
As mentioned above, drywall dust barriers only add to the mess, creating additional dust, debris, and noise during installation and demolition. Wasteful and labor-intensive, drywall is also environmentally unfriendly. Plastic sheets should never be used as a temporary dust wall. Flimsy, cheap, and unstable, they do not meet the ICRA Class IV requirements that are requisite for healthcare-related construction projects. Polycarbonate panels aren't as durable, don't look great, and lack sound attenuation for patient occupied renovation projects at healthcare facilities.
What drives the value of STARC temporary dust walls?
STARC's RealWall dust barriers are a reusable modular temporary containment system.
The sound attenuating panels reduce renovation noise by up to 50%.
The 3 layer construction provides a real wall appearance, superior stability, and durability.
Fast, easy disruption-free installation - 2 people can install 100' of wall in one hour.
Properly installed, the airtight walls prevent any circulation of dust, in addition to the system exceeding ICRA Class IV and ASTM E-84 requirements.
Significant cost savings over time.
When it comes to innovation in temporary dust walls and dust barrier systems, the industry leader is STARC's RealWall temporary containment system. To learn more about how to eliminate the disruption of renovation, download our catalog!
Interested in More Information on STARC Systems?