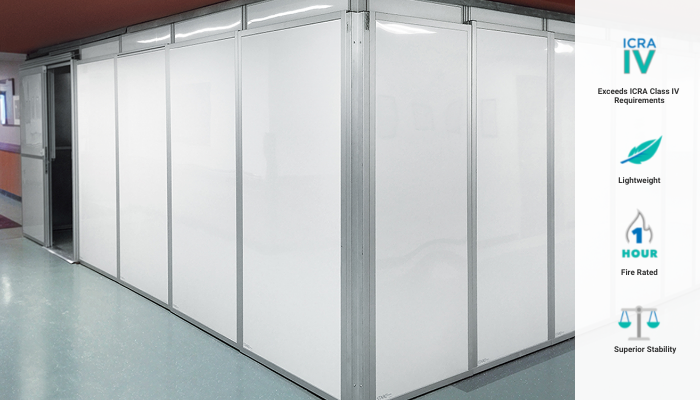 Rising prices are top of mind for project managers, who are doing their best to deliver on-schedule and on-budget while navigating supply chain issues and labor challenges. To help build some price predictability into project starts, many are taking a closer look at temporary containment, particularly for occupied renovations.
How to Choose a Modular Wall System
Here are three ways choosing the right temporary modular wall system can help you do more with less.
1. Time management gains

With modern, pre-engineered solutions, there's no need to schedule containment after hours in an occupied space or to schedule around your customer's operations.
Strategically leveraging modular wall panels can also reduce your reliance on drywall subcontractors or subpar solutions such as plastic sheeting. For example, both our RealWall™ and LiteBarrier™ containment solutions employ a lift-and-drop panel system. Two laborers can quickly install 100' of sound attenuating RealWall in one hour, versus the two to three days it would take using drywall.
Advantage: Using a high-quality modular solution allows you to build a buffer into your project schedule. Over the course of a five-phase project, for example, temporary containment installation using drywall would take 10-15 days. But with RealWall or LiteBarrier, that same task could be completed in just five hours – providing more time to deal with unexpected items. And owners will appreciate that the process is far less disruptive to occupants.
2. Lowering labor costs
Although coming in on budget ultimately reflects a wide range of decisions made during the planning and execution phases of a project, few things will punch a hole in your budget faster than unchecked labor costs.
Every renovation requires a mix of skilled labor over the course of the project. But is it really necessary to have subcontractors install temporary drywall barriers, especially when it could so easily contribute to cost overruns? By implementing modular solutions, those same carpenters can be better allocated elsewhere on the project.
Modular temporary containment systems also eliminate the hassle and labor required to break down and dispose of drywall when the renovation project is complete – further lowering your costs.
Advantage: Each of our temporary containment products is specifically designed with ease of assembly and removal in mind. That means laborers can get the job done quickly and efficiently, yielding greater control over labor costs.
3. Saving on materials costs while protecting supply access
Beyond increasing labor costs, 2022 has seen big spikes in the cost of materials. With experts like Associated Builders and Contractors' Chief Economist Anirban Basu expecting supply chain troubles to extend into 2023 and in some cases 2024, price escalations are likely to continue.
Using modular temporary containment solutions for renovations helps ensure lower overall cost and predictable supply.
Advantages: Our RealWall and LiteBarrier systems not only save on the amount of material waste built into project budgets for construction, demolition and disposal of drywall barriers, they're also reusable – so they can be redeployed across an endless number of configurations. Customers typically recover their investment after completing just three to five projects.
In addition, our U.S.-based manufacturing facility maintains a high level of inventory, which means our containment system is available when you need it and is not subject to supply chain disruptions.
Why Choose Modular?
As project managers increasingly look to balance job site requirements with the need to maintain a competitive edge, it makes sense to revisit how you manage temporary containment for renovations. More and more, today's modular temporary containment solutions are recognized for providing a distinct set of advantages that allow for better time management, as well as significant savings on labor and materials costs.
Interested in More Information on STARC Systems?