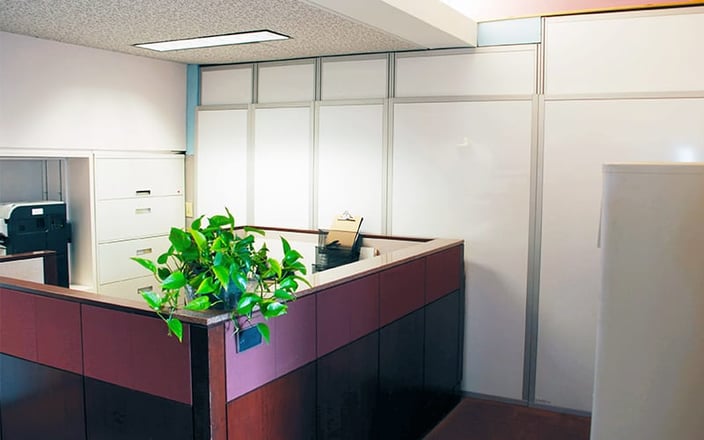 Renovation projects in any work environment can present challenges, but when
corporate office space
is subjected to remodeling and renovation, temporary office wall panels or reusable office wall partition systems can offer a containment solution that greatly reduces disruption from the construction.
Why Temporary Walls in Corporate Office Spaces Should Be Part of the Renovation Strategy
Because office spaces play a central role in any company's day-to-day productivity, it's essential when planning a renovation, for contractors and project managers to devise a strategy that limits the interruption, distractions, and noise caused by construction. This renovation strategy should include the installation of a partition system throughout the phases of the project. Not any partition system—but one that presents a solution—one that can meet the challenges of renovation and make the difference in continuing employee productivity.
For many corporations and companies, the renovation of office space is a good problem to have. As part of the development process, redesigning a workspace is a sign that your company is growing and it also ensures that the company has plenty of room to grow into. A redesigned workspace can help increase productivity, provide a comfortable work environment for employees, and leave positive impressions with visitors.
During construction, a tenuous balance between completing the project on time and office production must be met. The office still needs to function, accommodate staff and visitors, and continue business operations as usual—as the work progresses. Companies should be aware that renovations can cause tension among employees which can impact morale. Unless well prepared for the disruption that the project causes, it is more than likely that productivity in the office will drop.
Developing a smart renovation strategy that includes temporary office walls can avert a drop in office productivity. Project managers and contractors specializing in corporate office renovation have turned to STARC Systems RealWall™, a reusable office wall partition that is exceptionally durable, sound attenuating, and the premier temporary containment solution on the market. For corporate office spaces undergoing occupied renovations, STARC's RealWall™ experience can help maintain office productivity and continue the functionality of the current space when the renovation is underway.
Learn How You Can Save with STARC Systems
Renovation Without Disruption
Erecting barriers during occupied renovations in any sector is important for continuing daily operations. The one common denominator in any occupied renovation project is establishing a containment system to separate the dust, debris and noise from the building occupants—whether a healthcare facility, a factory, an office building or warehouse. However, in commercial office spaces, temporary walls have an added value—especially the RealWall™. It is a natural-looking wall for the workspace, one that is aesthetically pleasing, can be easily deployed throughout the phases of the project as necessary, it hides clutter, and provides much-needed noise reduction to limit disruption.
Sound attenuation is increasingly important for commercial office renovation projects. Increased noise level is one of the key factors that affect employee productivity during the remodeling and renovation of office spaces. One study on productivity found that the noises from construction projects in the workplace distract employees and lowers productivity—no surprise there—but males are more negatively affected by noises than females. Whether it's answering the phone, compiling data, conducting meetings, or receiving a visitor—increased noise levels from construction will hurt a company's productivity. The RealWall™ containment system's sound attenuation reduces renovation noise by up to 50%. The wall is quick, easy and disruption-free to install and can be relocated throughout the renovation site during construction phases. It only takes two people no more than an hour to install 100-feet of wall.
In addition to increased noise levels, another factor is the amount of clutter that accumulates in office spaces during renovations. A clutter-free workspace is imperative for staff and visitors alike. In many office environments today, employees need to move and collaborate in open areas throughout the day. A cluttered space is not only a nuisance and hazard, but it can also be a major distraction that will negatively impact productivity.
For project managers, STARC's reusable office wall partitions are an asset to the project at hand and for any planned in the future. For contractors, it's a one-time investment that will reduce material and labor costs over time.
Coordinating an office renovation project within a working office is a big undertaking. A key first step is to limit the disruption. The STARC RealWall™ temporary office wall system is the solution to maintain productivity and functionality of commercial office space during occupied renovations.
Interested in More Information on STARC Systems?