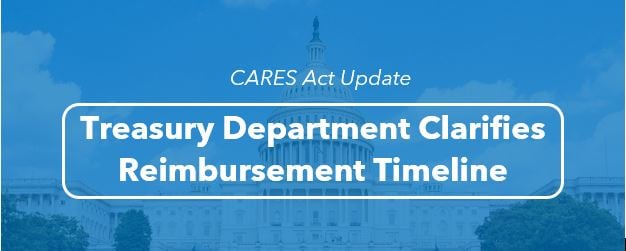 In September, the Treasury Department issued a clarification for hospital and healthcare recipients of $22 billion in pandemic response funds from the CARES Act.
Re-imbursement Available When Goods Received After Year-end*
Treasury's note explains that CARES Act reimbursement are for costs incurred for (a) expenditures [due to] the [COVID-19] public health emergency; (b) were not accounted for in the budget most recently approved [as of March 27, 2020] for the State or government; (c) were incurred during the period that begins on March 1, 2020, and ends on December 30, 2020.
Treasury's note goes further to explain that "Upon further consideration... for a cost to be considered to have been incurred, performance or delivery must occur during the covered period but payment of funds need not be made during that time." Further, "goods delivered in the covered period need not be used during the covered period in all cases." (Please refer to full release for details. Finally, "in recognition of the likelihood of supply chain disruptions if a [fund] recipient enters into a contract requiring the delivery of goods or performance of services by December 30, 2020, the failure of a vendor to complete delivery or services by December 30, 2020, will not affect the ability of the recipient to use payments from the Fund to cover the cost of such goods or services if the delay is due to circumstances beyond the recipient's control.
Details of Treasury's clarification are re-published in full here.
ICRA Class-IV Negative Air Temporary Walls for Healthcare Facilities
The rapid deployment of modular walls provide effective containment against airborne infections. Our Simple Telescopic Airtight Reusable Containment system is pre-engineered to meet the needs of hospitals, or any type of healthcare facility. STARC Systems provides safe and secure temporary wall system solutions that meet ICRA Class-IV standards, are made with negative air components, and are fast to deploy, durable, attractive, air-tight, washable, and sound attenuating. Being able to quickly quarantine a room, an entire wing, or convert acute care areas to isolation areas is an effective tool and a part of many facilities' emergency response plans.
* This informational post does not qualify as legal advice. Please consult your internal finance department or grant specialists to verify your eligibility for these programs.
Interested in More Information on STARC Systems?