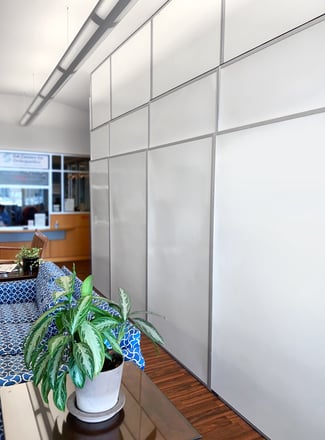 For years, contractors have used plastic sheets or drywall to block off or contain areas when construction called for temporary walls. Both are messy and inefficient. Plastic sheets don't hold up over time and often struggle to keep construction debris inside. Drywall is expensive, especially when you factor in material costs, build and demolition time, and the time for cleanup.
Neither plastic sheeting nor drywall allows for reuse, meaning it's a lost expense. Also, when you need to control construction dust or potentially dangerous pathogens, you need a solution that meets or exceeds ICRA Class IV protocols to create airtight seals.
For these reasons (and more), you may consider using polycarbonate wall panels instead. Polycarbonate panels are lightweight, easy to use, look good, and provide thermal insulation. And because polycarbonate panels can be reused, they are also sustainable.
However, there are some downsides to using polycarbonate walls that you should be aware of. So, let's take a look at the pros and cons.
The Pros and Cons of Polycarbonate Wall Panels.
Pros
Passes B1 fire ratings, will not burn with open flame
Lightweight and water resistant
Cleanable
Cheaper than some other solutions
Cost is often the driver for organizations to choose polycarbonate panels, but It's also a disadvantage. You get what you pay for.
Cons
Not as durable
Easier to bump out of framing
Sensitive to scratches
Lower cost can mean lower quality
A Better Solution for Wall Panels
Less expensive, lower-cost polycarb systems have a place, but it's best used for very specific situations that don't require durable solutions or significant re-use. Some superior products offer greater flexibility, durability and reusability. A good example is LiteBarrier™ from STARC Systems.
LiteBarrier may appear to be a polycarb solution, but it is actually made of fiberglass reinforced polymer (FRP), a more highly engineered kind of polycarbonate. FRP panels have strong fibers embedded in the resin, providing more strength and significantly greater durability. They stand up to more abuse and have a longer product lifespan. This allows for more flexible re-use, thereby improving your ROI.
LiteBarrier is the most durable modular wall system of its type, using a slim aluminum frame and fiberglass-reinforced polymer partitions. This works well for quick turn-around projects and repeat use, even in tough environments. You can keep costs low while getting superior durability compared to polycarbonate panels.
Additional benefits include:
Safety: Exceeds ICRA Class IV and ASTM E84 requirements.
Cost-Effective: A lower-priced solution that looks great.
Flexible: Easy to configure or change to adapt to project needs.
LiteBarrier containment systems can be built to nearly any configuration. Its fully bonded panels can integrate with exhaust systems and pressure monitors when negative air is needed for containment.
Don't Settle for Inferior Alternatives
When evaluating wall panel systems, you want to be sure you are not using low-end polycarb solutions that some companies offer. There's a noticeable difference. Instead, opt for a more durable product to provide the temporary barriers you need with a significantly improved lifespan.
For more information about LiteBarrier, contact us today.
Interested in More Information on STARC Systems?