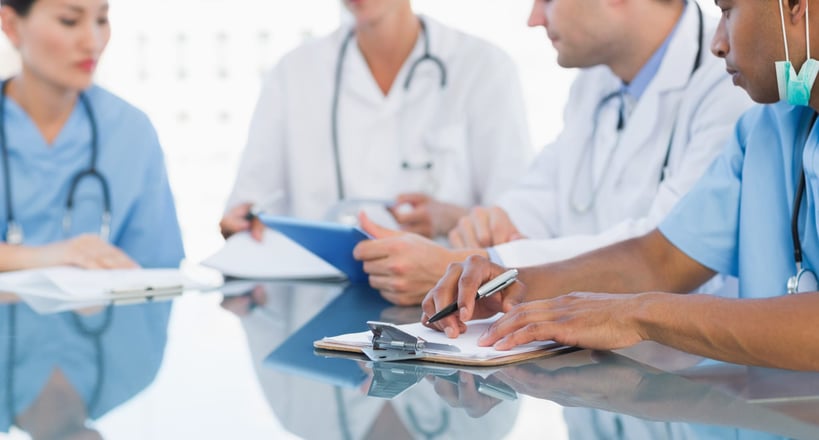 While some hospitals were more prepared than others for the COVID-19 pandemic, no one could have foreseen just how profound the impact of the crisis on our healthcare system would be. When the novel coronavirus hit the U.S. earlier this year, media reports and scenes of hospitals on the front lines struggling to keep up with patient surges demonstrated the importance of designing for future flexibility and resiliency. Over the past six months, we've learned several valuable lessons that can help your healthcare facility prepare for a surge, or resurge, of cases in your area.
1. There are a Dozen Ways to Repurpose the Space You Already Have
Though COVID-19 doesn't appear to be going away any time soon, the good news is you can still make your existing environment safe and effective as we head into an uncharted cold and flu season. At Hendrick's Regional Health, a small 160-bed hospital in Danville, Indiana, the team had to act fast when they became the first town in the state to have a COVID positive patient. The Director of Engineering, Troy Tucker, quickly realized that his job became "how do I break up and divide parts of the hospital into sub-units for negative air isolation?" Tucker's team was able to meet COVID-19 patient surge capacity by quickly creating 43 additional negative air isolation rooms by repurposing existing spaces within the hospital.
While there is no one-size-fits all option, as every hospital is different and will require isolation unique to their space, there are a few ways to determine the potential of your facility:
Conduct a Space Assessment
The first step in making your current space pandemic-ready is by evaluating its efficiency. Determine what you have too much of (e.g. PACU) and what do you need more of (e.g. ICU beds). For instance, are there rooms that are being underutilized that can be converted into isolation rooms?
Due to the reduction of elective operations across the U.S., converting operating rooms (ORs) and ambulatory surgical centers offer a promising solution for an immediate increase of COVID-19 patient rooms. ORs are already outfitted with the appropriate air changes/air pressure and the anesthesia equipment in these spaces is readily available for ventilator support. These spaces are ideal for setting up multiple Airborne Infection Isolation Rooms (AIIRs) in one space.
Repurpose

Existing Spaces to Create Infection Isolation Negative Air Bed Capacity
Norman Morgan, AIA, principal and regional director at HKS Inc., pictures a flexible healthcare facility structure post-COVID-19. In an article by Health Facilities Management Magazine, he says that hospitals preparing for the next pandemic will be focusing on flexibility and capacity in patient rooms, even having the capability to convert a room into an ICU if necessary. He also advised that certain areas of the hospital should be isolated with separate air handler units and air filtration systems to mitigate cross-contamination.
It's best to consult with a contractor to help determine the need for additional infrastructure, such as gas, electrical, lighting, and HVAC. Although, if you don't have time for a full-scale construction of your facility, instant isolation can still be achieved. Assistant Director for Major Hospital Projects at SUNY, Alvin Dunaisky said his team needed, "to be able to very quickly install temporary walls without doing any construction." So, Dunaisky looked for a solution that was "flexible, quick to install, quick to take down when not needed, temporary, and does not require any construction." He went on to say, "I wanted to make these open areas more suitable, in a highly infectious contagious time, to put patients in. When they are not needed, I can take them down, store them and bring them back when needed."
Take Patient Flow Through Your Facility Into Account
When planning pandemic space changes, consider how patients can safely navigate through your facility in areas such as the Emergency Department, testing centers, inpatient admitting, waiting rooms, and ICUs. Keeping COVID-19 positive patients separated from the non-infected patients and staff in these high-traffic areas should be the priority when it comes to redesigning existing spaces to prevent the spread of infection.
According to the Mass Design Group, redesigning hospital spaces to help protect patients and healthcare workers is key in infection control: "Simple visual aids and design nudges can help mitigate infection transmission by clearly conveying risk zones, creating mental "anchors" for specific activities, and aligning behavior with policy." By identifying these high-risk zones and containing them, it not only decreases the spread of infection but also creates necessary behavioral changes to help further prevent contamination.
Until we can better understand the transmission of COVID-19 and successfully determine infection control guidelines, healthcare facilities won't be able to confidently make permanent redesign changes. As hospitals repurpose their available spaces to meet surge demand, quick adaptation and site-specific guidelines based on the information we have available are essential. Global design firm Stantec hits the nail on the head: "We need to quickly and efficiently leverage our existing spaces and infrastructure, allowing our healthcare professionals to focus on providing care in this time of crisis".
2. Modular, Prefabricated Walls Significantly Reduces Deployment Time
Design firms and contractors agree that investing in panel modular construction provides significant improvements to cost, quality, productivity, and safety performance. In fact, specialty trade contractors project that over the next three years, healthcare facilities will be the number one building type to feature modular or prefabricated construction.
These modular structures provide an ideal solution for effectively managing infection control and allow for the creation of a negative air environment. There is no construction needed; these containment systems are clean, install quickly, and impose no disruption to patients or staff. When you need to act fast, speed doesn't need to sacrifice functionality or safety. Ron Vachon, Director of Plant Operations, states "Building a drywall would have taken us many hours creating dust and noise. The prefabricated modular panels took a mere two hours to be installed. I don't think I have ever solved a construction issue so easily."
The quick deployment of temporary containment walls is directly supportive of the need for healthcare facilities to efficiently occupy underutilized space. In an article by Construction Dive, it's noted that "Hospitals had traditional general contractors... convert existing spaces in their facilities, such as libraries and cafeterias, into makeshift treatment areas." The flexibility provided by temporary containment wall systems cannot be understated when it comes to patient safety. Technical builder DPR Construction states that not only do modular structures separate infectious patients, but available spaces can also be customized for a specific region or patient population, because structures can be quickly disassembled and reassembled to change location as needed.
3. Flexibility is King
After months of enduring the COVID-19 outbreak, we know that infection isolation needs to happen, but there is no "right way" to do it or mandated protocols for doing so unlike occupied healthcare renovation and ICRA requirements. In an article by management consulting firm McKinsey & Company, the most crucial protocols to act on include "Freeing up critical care capacity (for example, deferring elective procedures, moving non-COVID-19 patients to alternate sites), building alternate capacity (such as converting ambulatory surgery centers, unstaffed floors, physical therapy space, outpatient facilities, and non-healthcare facilities), plus delivering appropriate care in non-acute settings (e.g., home care and telehealth)."
Patient loads can change very quickly, making it challenging to know the scope your facility needs to prepare for. What your facility needs today could be very different from what it may need in the future, so boxing yourself in with a permanent re-design isn't in the best interest of patients or healthcare workers. Temporary solutions enable flexibility and safety without building permanent infrastructure. For example, when the need arises for changing conditions in response to isolation needs you have the ability to freely move an isolation ward from one part of the hospital to another quickly. When the urgency of the case surges subside, the same modular solutions used for isolation can be repurposed as temporary containment for occupied renovation projects.
STARC Systems temporary containment walls are the solution to this problem. Because every space is unique, prefabricated modular systems come with significant flexibility to fit the needs of each facility. Our ICRA Class IV walls can easily accommodate infection isolation needs your facility may have, whether it's telescoping, doors and ceilings, glass for increased visibility, and so forth. Brian Arnett, Facility Superintendent at Wexner Medical Center, explained his experience: "We put up 75 feet of temporary wall in 15 minutes the first time we installed STARC Systems. Our crews can install it even faster now. We are ready for any last-minute situations"
The Silver lining: Being Prepared for the Future
Designing and planning for the future won't help prevent a crisis but can significantly improve your facility's ability to respond to it effectively. Whether you decide to construct something more permanent or invest in a flexible product; having an effective plan, executed correctly, will allow frontline workers the ability to perform their jobs safely, patients will be isolated, and your hospital will avoid being overwhelmed. STARC Systems' COVID-19 Instant Isolation Solutions support a hospital's efforts to prepare not only for a second wave but for future pandemics. It's durable, it's there when you need it, and not there when you don't. Ready now, ready later.
Interested in More Information on STARC Systems?